Beautifully engraved certificate from Atlantic Coast Airways issued in 1929. This historic document was printed by the Broun - Green Co. N.Y. and has an ornate border around it with the company's name on top center. This item has the signatures of the Company's V. President, Charles E. Wade Jr. and Secretary, Leon S. Ravenelle.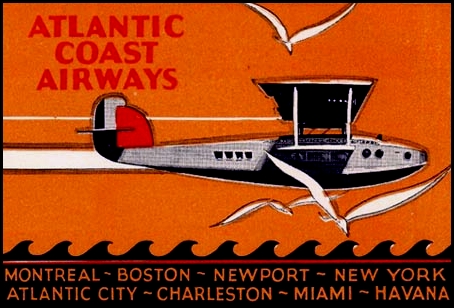 Company logo shown for illustrative purposes
Atlantic Coast Airways operated services, including seaplanes, between New York, Monteral, Boston, Newport, Havana, Miami and Havana. They had six 16 passenger airplanes.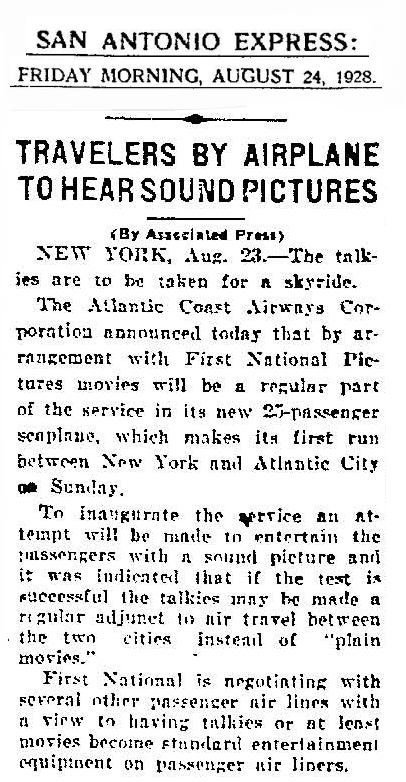 1928 Newspaper article regarding motion pictures on airplane
TRAVELERS BY AIRPLANE TO HEAR SOUND PICTURES NEW YORK, AUG. 23, 1928. The talkies are to be taken for a skyride. The Atlantic Coast Airways Corporation announced today that by arrangement with First National Picures movies will be a regular part of the service in its new passencer seaplane, which makes its first run between New York and Atlantic City on Sunday. To inaugurate the service an attempt will be made to entertnin the passengers with a sound picture and it wns indicated that if the test is successful the talkies may be made a regular adjunct to air travel between the two cities instead of "plain movies." What a novel idea....