Beautiful certificate from the Basic City Chilled Roll and Iron Works issued in 1895. This historic document was printed by the F. Murphy's Sons. Company and has an ornate border around it with a vignette of Virginia State Seal flanked by supplies and farming implements. This item has the signatures of the Company's President, James L. Delaplane and Secretary, A. E. Fletcher and is over 114 years old. 20 coupons attached on bottom. VF.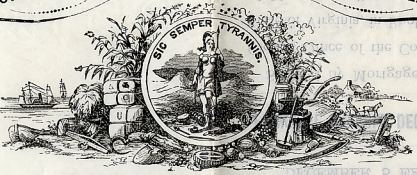 Certificate Vignette
Basic City was an incorporated town located in Augusta County, Virginia, in the United States. Formed in 1890, it was named after a process for steel manufacture. This process was to be implemented in Basic City, and gave rise to land speculation. There was an explosion of manufacturing and commercial development in Basic City between 1890 and 1893 as two railroads crossed here, the Norfolk and Western and the Chesapeake and Ohio. Basic City was once bigger than the surrounding city of Waynesboro, Virginia. As the national economy experienced a depression between 1893 and 1896, sources of investment money disappeared and many new industries in Basic City experienced bankruptcy and closed. The town's real estate bubble burst and many businesses started between 1890 and 1893 did not survive. In 1924, Basic City consolidated with the adjacent Town of Waynesboro, which had been formed in 1798. The new name for the town was called Waynesboro-Basic. It was later renamed "Waynesboro." In 1948, the Town of Waynesboro became an independent city. However, Basic City had become one of the "Lost Towns" of Virginia. In modern times, only a handful of buildings and businesses bear the Basic name. One of them is the Basic City Luncheonette.