Beautiful certificate from the Basic City Mining Manufacturing Land Co issued in 1890. This historic document was printed by Warden & Company Stationers and has an ornate border around it with a vignette of an group of workers at the mining company. This item has the signatures of the Company's President, Samuel Forrer and Secretary, J. A. Wise and is over 118 years old. The certificate was issued to Geo. c. Jordon, and is signed by him on the back.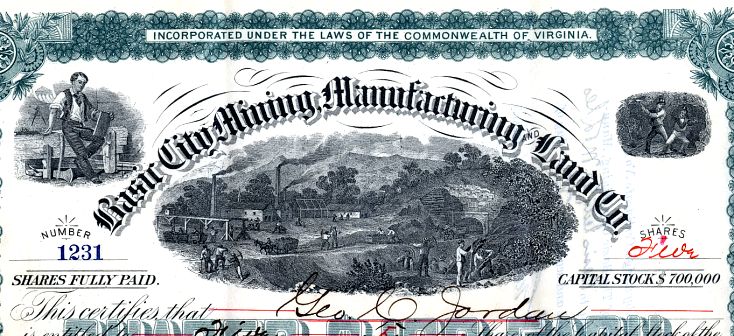 Certificate Vignette
The Basic City Mining, Manufacturing, and Land Company was organized and designed so that Basic City would become the "little Pittsburgh" of the Shenandoah Valley. Due to the many boom and bust cycles that occurred in the late 1800s and early 1900s, Basic City never became the success that it was designed to become. Early Basic City/Waynesboro sported many industries including a pencil factory, furniture manufacturers, an automotive plant, vinegar plant, stove factory, and supporting industry for the railroad which boasted a major intersection of north/south and east/west lines.