Beautiful engraved specimen certificate from the Cathay General Bancorp. This historic document was printed by American Bank Note Company and has an ornate border around it with an underprint of vignette of the company's logo, a dragon. This item has the printed signatures of the Company's President and Secretary.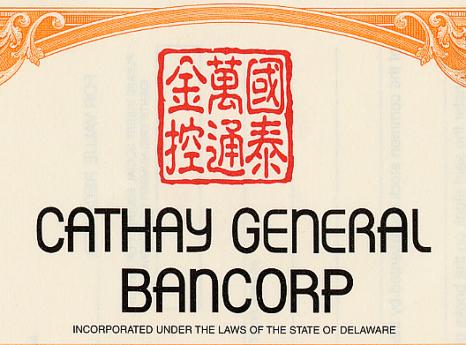 Certificate Vignette
Cathay General Bancorp operates as the holding company for Cathay Bank, which offers various financial services for individuals, professionals, and small to medium-sized businesses primarily in California. Its deposit products include passbook accounts, checking accounts, money market deposit accounts, certificates of deposit, individual retirement accounts, college certificates of deposit, and public funds deposits.
The company provides various loan products, such as residential mortgage loans, commercial mortgage loans, construction loans, home equity lines of credit, commercial loans, trade financing loans, and small business administration loans; and installment loans to individuals for automobile, household, and other consumer expenditures. Cathay General also provides letters of credit, wire transfers, forward currency spot and forward contracts, traveler's checks, safe deposit, night deposit, social security payment deposit, collection, bank-by-mail, drive-up and walk-up windows, automatic teller machines, Internet banking services, and other customary bank services. As of April 2, 2007, it operated 30 branches in California, 9 branches in New York State, 3 branches in Illinois, 1 branch in Massachusetts, 1 branch in Texas, 2 in Washington State, and a loan production office in Dallas, Texas, as well as representative offices in Taipei, Hong Kong, and Shanghai. The company was founded in 1961 and is headquartered in Los Angeles, California.
---
About Specimens
Specimen Certificates are actual certificates that have never been issued. They were usually kept by the printers in their permanent archives as their only example of a particular certificate. Sometimes you will see a hand stamp on the certificate that says "Do not remove from file".
Specimens were also used to show prospective clients different types of certificate designs that were available. Specimen certificates are usually much scarcer than issued certificates. In fact, many times they are the only way to get a certificate for a particular company because the issued certificates were redeemed and destroyed. In a few instances, Specimen certificates we made for a company but were never used because a different design was chosen by the company.
These certificates are normally stamped "Specimen" or they have small holes spelling the word specimen. Most of the time they don't have a serial number, or they have a serial number of 00000. This is an exciting sector of the hobby that grown in popularity over the past several years.