Beautifully engraved cancelled $1000 Gold Bond Certificate from the City & County of San Francisco Golden Gate Park and Presidio Extension Bond issued in 1904. This historic document was printed by the Western Banknote Company and has an ornate border around it with a vignette of a woman. This item has the original signatures of the Mayor, Eugene Schmitz, Treasurer and Auditor, and is over 116 years old.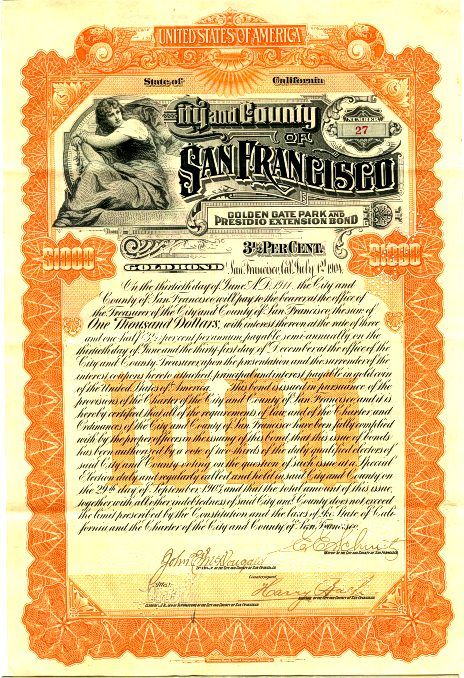 Certificate Vignette
Eugene Edward "Handsome Gene" Schmitz (August 22, 1864 November 20, 1928) was an American musician and politician, the 26th mayor of San Francisco (1902-7),
who was in office during the 1906 San Francisco earthquake.
Born in San Francisco, Schmitz was the son of an Irish mother and a German father. He played the violin and conducted the orchestra at the Columbia Theatre on Powell Street in San Francisco, and was president of the Musicians' Union when city boss Abe Ruef chose him to run for mayor of his hometown on the ticket of the Union Labor Party. Schmitz was elected in 1902, giving protection to criminals including houses of prostitution for protection money while remaining popular with the working class, then, despite a reform candidate backed by a fusion party, reelected in 1905. He was still mayor when the 1906 San Francisco earthquake and subsequent fire destroyed a prodigious amount of the city. On the day of the earthquake, Wednesday, April 18, 1906, he invited a cross-section of the city's most prominent businessmen, politicians and civic leaders, but none of the members of the Board of Supervisors, to form the Committee of Fifty to help him manage the crisis.
On June 13, 1907 Schmitz was found guilty of extortion,
and the office of mayor was declared vacant while he was sent to jail to await sentence. Shortly thereafter he was sentenced to five years at San Quentin State Prison, the maximum sentence the law allowed. He immediately appealed; while awaiting the outcome, he was kept in a cell in San Francisco County Jail. On January 9, 1908 the District Court of Appeals nullified his conviction. Two months later, the California Supreme Court upheld the Court of Appeals' ruling, and he was released on bail pending the resolution of the outstanding bribery indictments. In 1912 he was brought to trial once more, this time on charges of bribery, but after Ruef was brought from San Quentin to testify but refused to give evidence, and the other key witness, Chief Supervisor Gallagher, fled to Canada, Schmitz was acquitted. Schmitz ran for mayor again in 1915 and 1919, but was soundly defeated due to his past reputation. Elected to the Board of Supervisors in 1921, he remained until 1925. He was married and had two daughters. History from Wikipedia and
OldCompany.com
(old stock certificate research service)