Beautiful specimen certificate from the Cleveland Electric Illuminating Company printed in 1898. This historic document was printed by the Franklin Lee Bank Note Company and has an ornate border around it with a vignette of an allegorical figure, and is over 115 years old. 60 coupons attached on top.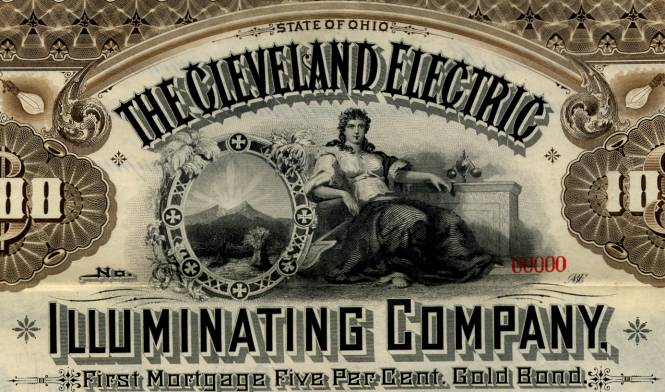 Certificate Vignette
Cleveland Electric Illuminating Company (CEI), a subsidiary of FirstEnergy Corp. (NYSE: FE), serves more than 750,000 customers across Ashtabula, Cuyahoga, Geauga, Lake and Lorain counties. FirstEnergy is a Fortune 500 company headquartered in Akron, Ohio. It serves 4.4 million customers, providing electric power, natural gas, and steam distribution services to parts of Ohio, Pennsylvania and New Jersey. FirstEnergy's utility customers are served through seven operating companies: Cleveland Electric Illuminating, Jersey Central Power and Light, Metropolitan Edison, Ohio Edison, Pennsylvania Electric Company ("Penelec"), Penn Power, and Toledo Edison. FirstEnergy was formed by the merger of Ohio Edison and Centerior Energy, itself the product of a merger between the Cleveland Electric Illuminating Company and Toledo Edison, in 1997. In 2001, FirstEnergy acquired GPU, Inc., owner of Jersey Central Power and Light, Pennsylvania Electric Company ("Penelec"), & Metropolitan Edison (Met-Ed). Through the acquisition of GPU, FirstEnergy also acquired the MYR Group, which installs & maintains utility power lines and cellular telephone communications towers.
---
About Specimen Certificates
Specimen Certificates are actual certificates that have never been issued. They were usually kept by the printers in their permanent archives as their only example of a particular certificate. Sometimes you will see a hand stamp on the certificate that says "Do not remove from file". Specimens were also used to show prospective clients different types of certificate designs that were available. Specimen certificates are usually much scarcer than issued certificates. In fact, many times they are the only way to get a certificate for a particular company because the issued certificates were redeemed and destroyed. In a few instances, Specimen certificates were made for a company but were never used because a different design was chosen by the company. These certificates are normally stamped "Specimen" or they have small holes spelling the word specimen. Most of the time they don't have a serial number, or they have a serial number of 00000. This is an exciting sector of the hobby that has grown in popularity over the past several years.