Rare 11x15 page from a guestbook which was dated May 5, 1950. Unique list of guests from entertainment industry all signed in fountain pen. This would look great framed.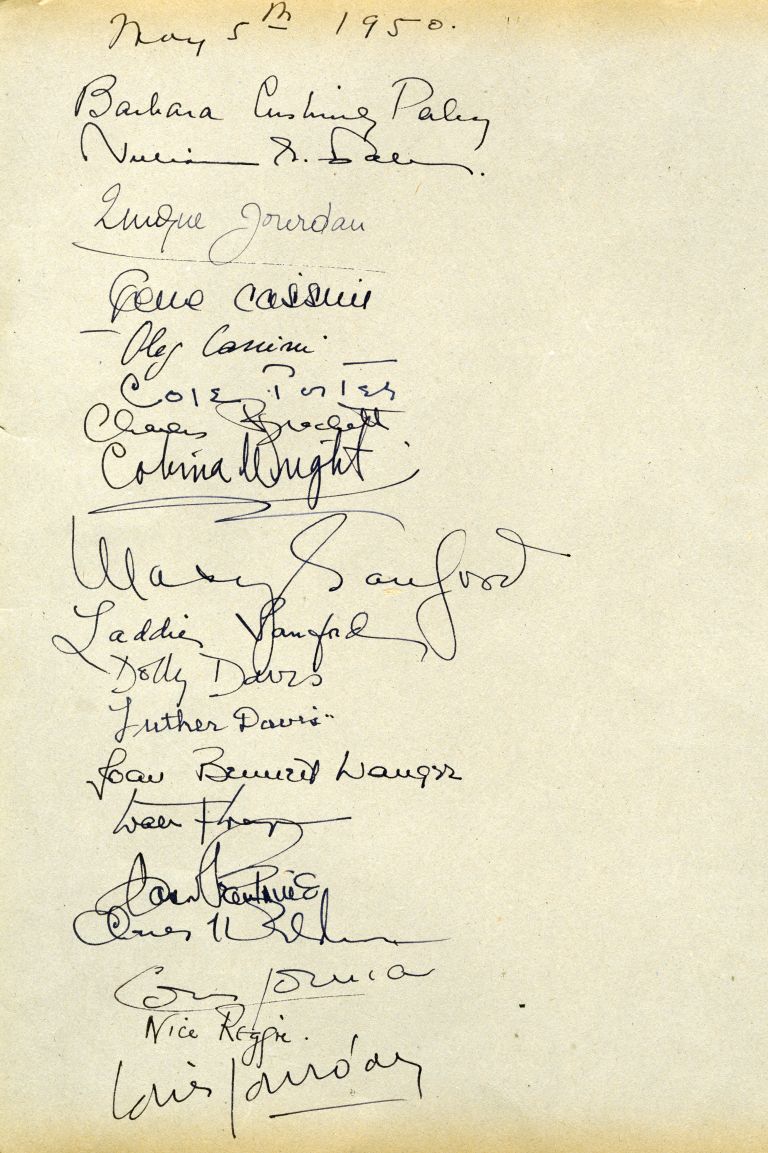 Signatures in order on page:
Barbara Cushing Paley was an American socialite and style icon, whose second husband was the founder of CBS, William S. Paley. She was known by the popular nickname "Babe" for most of her life. She was named to the International Best Dressed List Hall of Fame in 1958. Long after her death, Babe Paley remains an icon in the world of fashion and style. "Babe Paley had only one fault," commented her one-time friend Truman Capote. "She was perfect. Otherwise, she was perfect."


William S. Paley was the chief executive who built Columbia Broadcasting System (CBS) from a small radio network into one of the foremost radio and television network operations in the United States

Berthe Frédérique "Quique" Jourdan.........Wife of Louis Jordan

Gene (Tierney) Cassini was an American film and stage actress. Acclaimed as a great beauty, she became established as a leading lady. Tierney was best known for her portrayal of the title character in the filmLaura (1944), and was nominated for an Academy Award for Best Actress for her performance as Ellen Berent Harland in Leave Her to Heaven (1945).

Oleg Cassini was an American fashion designer born to an aristocratic Russian family with maternal Italian ancestry. He came to the United States as a young man after starting as a designer in Rome, and quickly got work with Paramount Pictures. Cassini established his reputation by designing for films.
He gained additional renown by designing for First Lady Jacqueline Kennedy. "The Jackie Look" was highly influential in American design. Cassini's designs such as the A-line, sheath and the empire strapless dresses continue to be influential. He was inspired by sports and Native American culture.

Cole Porter was an American composer and songwriter. Born to a wealthy family in Indiana, he defied the wishes of his domineering grandfather and took up music as a profession. Classically trained, he was drawn towards musical theatre. After a slow start, he began to achieve success in the 1920s, and by the 1930s he was one of the major songwriters for theBroadway musical stage. Unlike many successful Broadway composers, Porter wrote the lyrics as well as the music for his songs. After a serious horseback riding accident in 1937, Porter was left disabled and in constant pain, but he continued to work. His shows of the early 1940s did not contain the lasting hits of his best work of the 1920s and 30s, but in 1948 he made a triumphant comeback with his most successful musical, Kiss Me, Kate. It won the first Tony Award for Best Musical.

Charles Brackett was an American novelist, screenwriter, and film producer. He was awarded the French Medal of Honor. He was a frequent contributor to the Saturday Evening Post, Collier's, and Vanity Fair, and a drama critic for The New Yorker from 1925 to 1929.

Cobina Wright (20 September 1887 9 April 1970) was an American opera singer and actress who appeared in The Razor's Edge(1946). She gained later fame as a hostess and a syndicated gossip columnist. Wright was also known as Esther Cobb, Esther Johnson, and Esther Cobina.

Mary Sanford was an American actress. She began her career as a child actress playing on the Broadway stage from 1910. In 1926 she played "Poppy" in the smash hit and controversial play The Shanghai Gesture, in which Florence Reed played her mother (known as "Mother Goddam"). Reed's character kills her daughter in a startling end to the play. This play was turned into a very sanitized film in 1941 with Gene Tierney. Duncan's last film appearance was in the 1933 film Morning Glory, which starredKatharine Hepburn.

Laddie Sanford was one of America's best known Polo Players at the time

Dolly Davis was a French film actress.

Luther Davis (August 29, 1916 July 29, 2008) was an American play- and screenwriter. In collaboration with Charles Lederer, Robert Wright, and George Forrest, Luther Davis wrote Kismet, Timbuktu!, and two different treatments of Vicki Baum's novel Grand Hotel(At the Grand for the Los Angeles and San Francisco Light Opera Association and the Broadway musical version, Grand Hotel, The Musical). He received two Tony Awards in 1954 (with Lederer) for Kismet as Best Author (Musical) and as co-author of the book contributed to the Best Musical win. He was nominated again in 1978, for Most Innovative Production of a Revival, as producer of Timbuktu!, and in 1990 as author of the Best Book (Musical) for Grand Hotel, The Musical. He wrote fifteen movies, many television specials and co-produced Stephen MacDonald's Off-Broadway play, Not About Heroes. He won two Mystery Writers of America Edgar Awards and was nominated many times by the Writers Guild of America and the League of American Theatres and Producers.

Joan Bennett Wanger was an American stage, film and television actress. Besides acting on the stage, Bennett appeared in more than 70 motion pictures from the era of silent movies well into the sound era. She is possibly best-remembered for her film noir femme fatale roles in director Fritz Lang's movies such as The Woman in the Window(1944) and Scarlet Street (1945).

Walter F. Wanger was an American film producer active in filmmaking from the 1910s to the turbulent production of Cleopatra in 1963. Wanger developed a reputation as an intellectual and a socially conscious movie executive who produced provocative message movies and glittering romantic melodramas. Wanger was strongly influenced by European films, and made many productions geared towards international markets. His career began at Paramount Pictures in the 1920s and led him to work at virtually every major studio as either a contract producer or an independent. Wanger served as president of the Academy of Motion Picture Arts and Sciences from 1939 to October 1941 and from December 1941 to 1945.

Joan Fontaine - Joan de Beauvoir de Havilland (October 22, 1917 December 15, 2013), known professionally as Joan Fontaine, was an English-American actress. Fontaine began her career on the stage in 1935 and signed a contract with RKO Pictures that same year. In 1941, she received an Academy Award nomination for Best Actress for her role in Rebecca, directed by Alfred Hitchcock. The following year, she won the Academy Award for Best Actress for Hitchcock's Suspicion (1941), making Fontaine the only actor to ever win an Academy Award in a film directed by Hitchcock. Fontaine and her elder sister Olivia de Havilland are the only set ofsiblings to have won lead acting Academy Awards. During the 1940s to the 1990s, Fontaine continued her career in roles on the stage and in radio, television and film. She released her autobiography, No Bed of Roses, in 1978. After a career spanning over fifty years, Fontaine made her last on-screen appearance in 1994.

Not sure ?

Not sure ?

Nice Reggie - Reginald Gardiner (27 February 1903 7 July 1980) was an English-born actor in film and television and a graduate of the Royal Academy of Dramatic Art. His parents wanted him to be an architect, but he insisted on a career as an actor. He started as a super on stage and eventually became well known on the West End stage. He was also well known to wireless listeners and was known on air for his amusing train and car noises. Gardiner started film work in crowd scenes, making his big film break in 1926 in the silent film The Lodger, by Alfred Hitchcock. Moving to Hollywood, he was cast in numerous roles, often as a British butler. One of his most famous roles was that of Schultz in Charlie Chaplin's The Great Dictator. He also performed memorable turns as the spurned "almost-husband" in The Doctor Takes a Wife and Christmas in Connecticut. On 4 October 1956, Gardiner appeared with Greer Garson as the first two guest stars in the series premiere of NBC's The Ford Show, Starring Tennessee Ernie Ford. He made other guest appearances on television sitcoms of the 1960s, including Fess Parker's ABC series, Mr. Smith Goes to Washington and Stanley Holloway's Our Man Higgins. He also appeared in the 1964 Perry Mason episode, "The Case of the Ugly Duckling," as business owner Albert Charity, and in an episode of Alfred Hitchcock Presents("Banquo's Chair"). His last major role was alongside Phyllis Diller in her 1966-1967 ABC series, The Pruitts of Southampton. He also recorded a curious and eccentric classic called "Trains" which was regularly played on a 1950s British radio program calledChildren's Favourites. This record consisted of Gardiner, sounding slightly tipsy, reciting a monologue about steam railway engines (which he claimed were 'livid beasts') and impersonating both the engines themselves and the sound of trains running on the track. This latter he famously characterised as 'diddly-dee, diddly-dum' to mimic the sound pattern as the four pairs of bogie wheels ran over joins between the lengths of track. (A sound no longer heard since welded rail joins were introduced.) "Trains" was released as a 78 and 45 by English Decca Records (F 5278) which remained on catalogue into the 1970s. At the end of the record, Gardiner signs off with "Well folks, that's all: back to the asylum." He was summoned to Buckingham Palace to give a performance in person.

Louis Jourdan was a French film and television actor. He was known for his suave roles in several Hollywood films, including The Paradine Case (1947), Letter from an Unknown Woman (1948),Gigi (1958), The Best of Everything (1959), The V.I.P.s (1963) and Octopussy (1983). He played Dracula in the 1977 BBC television production Count Dracula, and played Dr. Sorell in the TV films Fear No Evil and Ritual of Evil.