Beautifully printed $100 Bond certificate from the Confederate States of America dated May 1, 1861. This historic document was printed by Douglas, Engr. New Orleans and has an ornate border around it with a vignette of Two women Columbia/Commerce on the left and Ceres/Agriculture on the right. It was issued under the Act of February 28, 1861. This certificate has been hand signed by A Clitherall and Henry Dickson Capers as Chief Clerk. There were only 3,250 of these bonds issued but it is unknown how many survived over the years. Light foxing on folds. Overall in Fine Condition. 14 coupons attached below (not all shown in scan due to bond size). Montgomery Bonds have been very hard to find and are very desirable.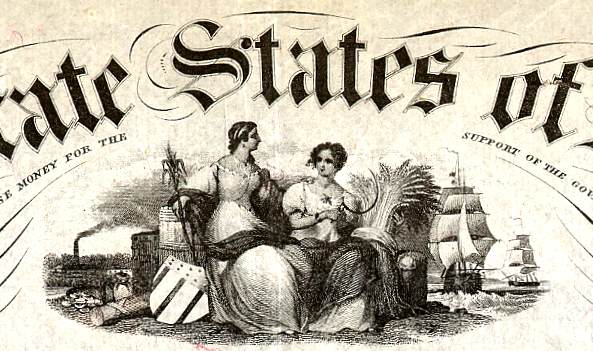 Certificate Vignette
The bond was issued under the Act of 2/28/1861 by the Confederate Congress. Montgomery, Alabama served as the Confederate capital from February 4, 1861 to May 21, 1861, when the capital was moved to Richmond, Virginia. Montgomery was chosen as the Confederacy's first capital because it was well positioned with good water and rail facilities and had a large number of hotel rooms. Also, it was thought to be safe from federal forces.
Confederate States Of America Bond

I thought I was ordering a Bond with all the Coupons. It was missing one. I am still pleased, but it would have made a better gift with all the Coupons.