Beautiful engraved Gold Bond Specimen certificate from the Detroit Edison Company dated in 1919. This historic document was printed by American Bank Note Company and has an ornate border around it with a vignette of an allegorical man. This item is over 97 years old.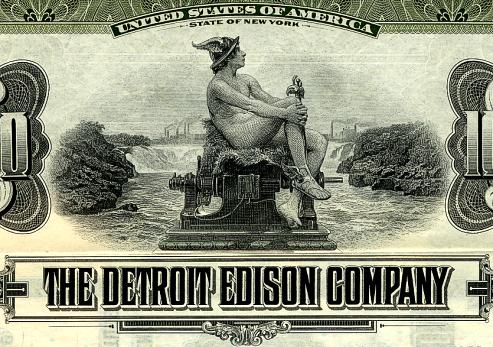 Certificate Vignette
Detroit Edison, founded in 1903, is an investor-owned electric utility which serves most of Southeast Michigan. Its parent company, DTE Energy, provides energy services to a variety of clients beyond Detroit Edison's service area. The utility operates nine fossil-fuel generating plants, as well as the Enrico Fermi Nuclear Generating Station. The company is also co-owner, with Consumers Energy, of the Ludington Pumped Storage Power Plant, a hydroelectric pumped storage facility in Ludington, Michigan. Detroit Edison uses fossil fuels (mainly coal) to generate 80-85 percent of its total electrical output, with the bulk of the remainder coming from nuclear power ([1]). At 3,300 megawatts, Detroit Edisons's Monroe Power Plant has the second largest generating capacity of any coal-fired power plant in North America. Only Southern Company's Bowen Power Plant located near Atlanta, Georgia has more generating capacity. Due to electric utility deregulation in Michigan, DTE Energy was forced to sell off Detroit Edison's sister subsidiary involved in high-voltage energy transmission: International Transmission Co. (ITC) Detroit Edison's near 11-gigawatt generating capacity is offered to its 7600-square-mile service area, which encompasses 13 counties in the southeastern portion of Michigan's lower peninsula. Energy is distributed throughout Huron, Tuscola, Sanilac, Saint Clair, Lapeer, Livingston, Ingham, Oakland, Macomb, Wayne, Washtenaw, Lenawee and Monroe counties by over a million utility poles and 44,000 miles of power lines. Detroit Edison/ITC's Transmission line voltages are 345,000 volts, 230,000 volts and 120,000 volts. Edison's subtransmission voltages are 40,000 volts and 24,000 volts and the distribution voltages are 13,200 volts and 4,800 volts. All new distibution circuits constructed after 1959 are 13,200 volts. Detroit Edison has three 345KV interconnections with First Energy Corporation in Ohio. (Bayshore-Monroe line, Majestic-Monroe-Allen Junction line, and the Majestic-Lemoyne line). There are four 345KV interconnections with Consumers Energy to the west of Detroit Edison's service area. (Majestic-Tompkins line, Majestic-Battle Creek-Oneida line, Jewell-Thetford line, and the Pontiac-Hampton line) There are two 345KV interconnections with Hydro One in Ontario, Canada. (St. Clair-Lambton #1 and St. Clair-Lambton #2) There are two 230KV interconnections with Hydro One in Ontario, Canada. (Keith-Waterman line and the Bunce Creek-Scott line} There are five 120KV interconnections with Consumers Energy. Since Consumers Energy/METC's transmission voltage is 138KV, Detroit Edison has 120/138 KV transformers in the substations on their end of the lines so that they can tie into Consumers Energy's system. The 120/138KV interconnections are the Custer-Whiting line, Genoa-Latson line, Hemphill-Hunters Creek line, Washtenaw-Lark-Blackstone line and the Atlanta-Thetford-Karn line
---
About Specimens
Specimen Certificates are actual certificates that have never been issued. They were usually kept by the printers in their permanent archives as their only example of a particular certificate. Sometimes you will see a hand stamp on the certificate that says "Do not remove from file". Specimens were also used to show prospective clients different types of certificate designs that were available. Specimen certificates are usually much scarcer than issued certificates. In fact, many times they are the only way to get a certificate for a particular company because the issued certificates were redeemed and destroyed. In a few instances, Specimen certificates we made for a company but were never used because a different design was chosen by the company. These certificates are normally stamped "Specimen" or they have small holes spelling the word specimen. Most of the time they don't have a serial number, or they have a serial number of 00000. This is an exciting sector of the hobby that grown in popularity over the past several years.