Beautifully engraved historic Certificate from the Enron Corporation issued in 2002. This historic document was printed by the American Banknote Company and has an ornate border around it with a vignette of an oil man sitting in front of a world globe and an oil field. This item has the printed signatures of the company's officers Mint, no folds.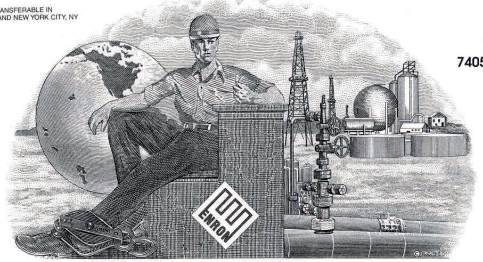 Certificate Vignette
May 25, 2006 - Enron former chief executive Jeffrey Skilling and founder Kenneth Lay were both found guilty Thursday of conspiracy and fraud in the granddaddy of all corporate fraud cases. On the sixth day of deliberations, a jury of eight women and four men convicted the former executives of misleading the public about the true financial health of Enron, whose collapse in late 2001 symbolized the wave of corporate fraud that swept the United States early this decade.
Ex-Enron CEO Jeffrey Skilling walks away from reporters in Houston after a jury found him guilty of 19 counts of fraud, conspiracy, false statements and insider trading. Skilling was found guilty on 19 counts of conspiracy, fraud, false statements and insider trading. He was found not guilty on nine counts of insider trading. Lay was found guilty on all six counts of conspiracy and fraud. In a separate bench trial, Judge Sim Lake ruled Lay was guilty of four counts of fraud and false statements. Both Lay and Skilling could face 20 to 30 years in prison, legal experts say. And Lay will also face an additional hefty term in prison for his conviction in the bank fraud case.
---
Enron, once the top electricity and natural gas trader and marketer in the US, had filed for Chapter 11 bankruptcy protection. Rival power marketer Dynegy had agreed to purchase Enron after controversy over accounting procedures caused Enron's stock price and credit rating to drop sharply in 2001; however, Dynegy backed out of the deal as Enron's finances worsened. Besides its energy trading operations, the company buys and sells other commodities, including metals, paper, coal, chemicals, and fiber-optic bandwidth. Enron has global interests in utilities, power plants (9,000-MW), and other energy projects, including a 25,000-mile US gas pipeline system. Enron plans to sell up to $6 billion in assets to pay off debt. Houston-based Enron created and dominated the trading of oil and gas contracts and is a big player in the complex world of commodities and risk management trading.
It also has extensive gas and oil lines and refineries. It had more than $100 billion in sales last year. The company's spectacular collapse began last month after revelations that its chief financial officer was running partnerships that allowed the company to keep half a billion dollars in debt off its books. In early November, Enron restated its earnings back to 1997, eliminating more than $580 million in reported income during that time. Its stock has plunged from $84.88 a share earlier in 2001 to pennies in just 11 months. It is under investigation by the U.S. Securities and Exchange Commission and, as of Thursday, the U.S. House Energy and Commerce Committee. Chronology of Enron's History July 1985 -- Houston Natural Gas merges with InterNorth, a natural gas company based in Omaha, Neb., to form the modern-day Enron, an interstate and intrastate natural gas pipeline company with approximately 37,000 miles of pipe. 1989 -- Enron begins trading natural gas commodities. Over the years, the company becomes the largest natural gas merchant in North America and the United Kingdom. June 1994 -- Enron North America trades its first electron. Enron goes on to become the largest marketer of electricity in the U.S. August 1997 -- Enron announces its first commodity transaction using weather derivative products. Enron goes on to market coal, pulp, paper, plastics, metals and bandwidth.
April 1999 -- Enron agrees to pay $100 million over 30 years for the naming rights to Houston's new ballpark, Enron Field. The Astros also sign a 30-year facilities management contract Enron Energy Services. November 1999 -- Enron launches EnronOnline, the first global Web-based commodity trading site. December 2000 -- Enron announces that president and chief operating officer Jeffrey Skilling will take over as chief executive in February. Kenneth Lay will remain as chairman. Shares hit 52-week high of $84.87 on Dec. 28. August 2001 -- Skilling resigns after running the company for just six months; Lay becomes CEO again. October 16, 2001 -- Enron reports a $638 million third-quarter loss and discloses a $1.2 billion reduction in shareholder equity, partly related to partnerships run by chief financial officer Andrew Fastow. Oct. 22, 2001 -- Enron acknowledges Securities and Exchange Commission inquiry into a possible conflict of interest related to the company's dealings with those partnerships. Oct. 24, 2001 -- Enron ousts Fastow. Oct. 31, 2001 -- Enron announces the SEC inquiry has been upgraded to a formal investigation. Enron creates special committee headed by University of Texas law school dean William Powers to respond to the investigation. Nov. 6, 2001 -- Enron's stock price drops below $10 a share after reports the financially troubled energy trader was seeking additional financing to shore up confidence. Nov. 8, 2001 -- Enron files documents with SEC revising its financial statements for past five years to account for $586 million in losses. Nov. 9, 2001 -- Dynegy Inc. announces an agreement to buy its much larger rival Enron for more than $8 billion in stock. Nov. 14, 2001 -- Enron announces it is trying to raise an additional $500 million to $1 billion in new private equity to shore up customer and market confidence. Nov. 19, 2001 -- Enron restates its third-quarter earnings and discloses it is trying to restructure a $690 million obligation that could come due Nov. 27. Nov. 20, 2001 -- Concerns about Enron's ability to weather its spiraling financial problems send the company's stock down nearly 23 percent to its lowest level in nearly 10 years.
Officials from both Enron and Dynegy say the merger was not in trouble. Nov. 21, 2001 -- Enron reaches critical agreement to extend $690 million debt payment. Nov. 26, 2001 -- Enron shares fall another 15 percent as investors continued to doubt that the deal will completed. Shares finish day at $4.01. Nov. 28, 2001 -- Dynegy backs out of deal after Enron's credit rating is downgraded to junk bond status; analysts say a bankruptcy filing is likely. Enron shares plunge below $1 amid the heaviest single-day trading volume ever for a NYSE or Nasdaq-listed stock.