Beautifully engraved SCARCE Certificate from the First National Bank of Chicago issued in 1864. This historic document was printed by Ed Mendel Lith. Lake St. Chicago and has an ornate border around it with a vignette of a Union Soldier. This item is hand signed by the Company's President ( Edmund Aiken ) and Secretary and Cashier and is over 145 years old. Light ledger stain on left side. Pen cancelled. Shows signs of wear.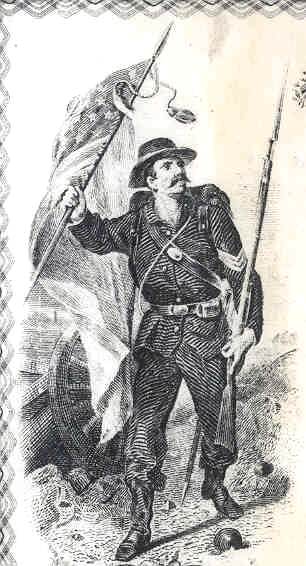 Certificate Vignette
Edmund Aiken, age 50, was the sole member of private banking firm, Aiken and Norton and was one of the founders and became the first President of the First National Bank of Chicago. He remained president from 1863-1867.
On May 1, 1863, the formal articles of association adopted, name of the corporation selected, "The First National Bank of Chicago." 7 days later the stockholders met in the offices of Aiken and Norton and elected its board of directors "to serve until the second Tuesday in January 1864." These officers were:
Samuel W. Allerton Tracy R. Bronson Samuel M. Nickerson Byron Rice Benjamin P. Hutchinson Edmund Aiken, President Samuel G.D. Howard James C. Fargo, Vice President John B. Sherman
---
On October 2, 1998, the merger of BANC ONE CORPORATION and First Chicago NBD Corporation became effective. The combined company was called BANK ONE CORPORATION and its common stock began trading on the New York Stock Exchange under the symbol ONE.
The merger, which was announced on April 13, 1998 created the nation's 5th largest bank holding company, with assets of more than $240 billion. BANK ONE is a major corporate bank nationally and in selected international markets in 11 foreign countries, the nation's second-largest credit card company, the leading retail bank in eight states, the leading business bank in the Midwest and Arizona, and the third-largest bank mutual fund company.
About Bank One
With assets of more than $270 billion, Bank One Corporation is one of the nation's leading financial services companies. Bank One currently serves more than 53 million credit card customers nationwide as well as 7 million consumer households, 485,000 small businesses and 20,000 companies in 14 states. It also manages more than $149 billion of assets for investors.