Beautifully engraved RARE Specimen certificate from the Indian Refining Company printed around 1930. This historic document was printed by American Bank Note and has an ornate border around it with a vignette of an Indian Chief. This is only the second time we have had this certificate for sale.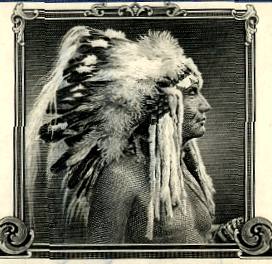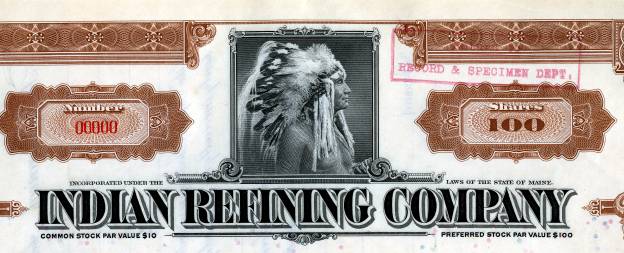 Certificate Vignette
On September 2, 1910 the INDIAN REFINING COMPANY (Maine) was chartered to do business in the State of Louisiana and began operating a refinery in New Orleans. The name Havoline® was originally introduced in 1904 by the Havoline Oil Company based in New York. It took its name from the Havemeyer family which owned the company. In 1909, the Havoline Oil Company was purchased by the Indian Refining Company. During the next few years, Dr. Francis X. Govers, a scientist for Indian Refining, developed a solvent dewaxing process using benzene and acetone. Though the wax-based oils of Pennsylvania were the leading motor oils, their use was limited because at low temperatures the wax hardened. The Govers process allowed people to operate automobiles in lower temperatures. In 1931, Texaco acquired control of Indian Refining and the rights to Havoline® Motor Oil and the Govers process. Over the next three years scientists worked to improve the oil and discovered a solvent extraction process using furfural. This process, along with the solvent dewaxing, could use any source of crude to produce a quality motor oil. The new technology caused business to expand rapidly, and the following year, an expanded lubricants plant in Port Arthur, Texas, helped to accommodate the increasing demand. The Texaco refinery at Lawrenceville, Illinois, first introduced Havoline® Motor Oil in 1934. Today, the solvent dewaxing process and solvent extraction process are the chief methods of refining motor oil throughout the petroleum industry. Currently, these processes are under license of the Texaco Development Corporation
---
About Specimens
Specimen Certificates are actual certificates that have never been issued. They were usually kept by the printers in their permanent archives as their only example of a particular certificate. Sometimes you will see a hand stamp on the certificate that says "Do not remove from file". Specimens were also used to show prospective clients different types of certificate designs that were available. Specimen certificates are usually much scarcer than issued certificates. In fact, many times they are the only way to get a certificate for a particular company because the issued certificates were redeemed and destroyed. In a few instances, Specimen certificates we made for a company but were never used because a different design was chosen by the company. These certificates are normally stamped "Specimen" or they have small holes spelling the word specimen. Most of the time they don't have a serial number, or they have a serial number of 00000. This is an exciting sector of the hobby that grown in popularity and realized nice appreciation in value over the past several years.