Beautifully engraved specimen certificate from the Melville Shoe Corporation printed in 1952. This historic document was printed by the American Banknote Company and has an ornate border around it with a vignette of cobbler in his shop making a shoe. This item has the printed signatures of the Company's officers.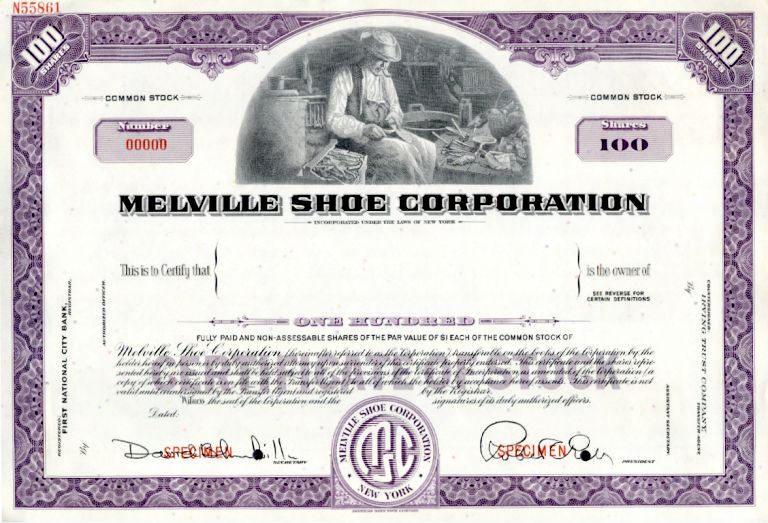 Certificate
Ward Melville - After mass-producing shoes for soldiers in World War I, Melville and an associate opened Thom McAn's in New York as a low cost, high quality shoe retailer. The chain eventually encompassed over 1,200 stores. With Thom McAn's as its anchor retail establishment, Melville went on to build a retail conglomerate focused on shoes and apparel. Melville Corporation, formerly based in Rye, New York, was a large retail holding corporation incorporated in 1922 as the Melville Shoe company by Ward Melville. It changed its name to CVS Corporation in 1996 under a massive reorganization plan. The company traded on the New York Stock Exchange (NYSE) under the ticker MES, before changing its ticker to CVS. At its peak, Melville operated over 7,282 retail stores in approximately 3,500 unique locations, providing a wide range of products. Melville was one of the first companies in the world to develop a shared-services satellite communications network, consolidating the infrastructure of all of its discrete divisions, resulting in significant cost savings for the corporation. Beginning in the early 1990s, Melville was under pressure to reorganize and shed its diverse portfolio. Many of the chains the company operated were underperforming. The chain shed all of its retail chains, except for CVS, which accounted for 40% of Melville's revenue. Its Peoples, Standard Drug, and Austin Drug pharmacies were converted to the CVS identity. Most of the company's units that were unrelated to its pharmacy business were shed in 1996. Many of the retail divisions that Melville once owned still operate either as independent companies or as subsidiaries of other companies. During the height of Melville's success, the company operated the following retailing divisions. Pharmacies CVS Pharmacy Peoples Drug Standard Drug Austin Drug Freddy's Drug Apparel Marshalls (sold to T.J. Maxx in 1995) Wilsons The Leather Experts Bermans Pelle Cuir Tannery West Snyder Leather Outlets Georgetown Leather Design Bob's Accessory Lady Chess King (sold to Merry-Go-Round in 1993; defunct as of 1995) Chess King Garage Foxmoor Free Fall Putnam Stores Footwear FootAction USA (spun off as Footstar Inc., now owned by Foot Locker) FootAction For Kids Fan Club Thom McAn B.O.Q. Open Country Smart Step Vanguard Melco Woodbridge Shoes Toys KB Toys (sold to Consolidated Stores in 1996, defunct as of 2010) Circus World K & K Toys Toy Works (defunct) Play Things Domestics Linens 'n Things (sold to JCPenney in 1996, defunct as of 2008) Prints Plus Furniture This End Up Wood's End Prism History from Wikipedia, Encyberpedia and
OldCompany.com
(old stock certificate research service)
About Specimen Certificates
Specimen Certificates are actual certificates that have never been issued. They were usually kept by the printers in their permanent archives as their only example of a particular certificate. Sometimes you will see a hand stamp on the certificate that says "Do not remove from file". Specimens were also used to show prospective clients different types of certificate designs that were available. Specimen certificates are usually much scarcer than issued certificates. In fact, many times they are the only way to get a certificate for a particular company because the issued certificates were redeemed and destroyed. In a few instances, Specimen certificates were made for a company but were never used because a different design was chosen by the company. These certificates are normally stamped "Specimen" or they have small holes spelling the word specimen. Most of the time they don't have a serial number, or they have a serial number of 00000.