Beautiful certificate from the Mount Hood Railroad Company issued in 1903. This historic document was printed by Goes Banknote Company and has an ornate border around it with a vignette of a steam locomotive. This item has the signatures of the Company's President (William H. Eccles), and Secretary (Henry H. Rolloff) and is over 106 years old.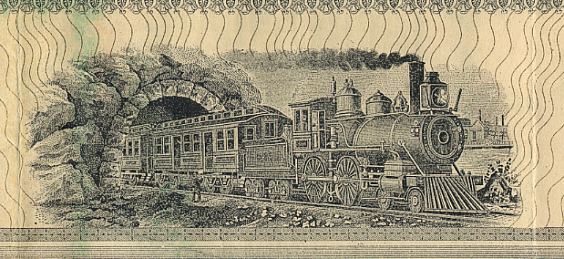 Certificate Vignette
Williuam H. Eccles' son was David Eccles (May 12, 1849 December 6, 1912). David was an American businessman who founded many businesses in Utah.
---
Since its beginnings in 1906, the Mt. Hood Railroad has served as an economic lifeline for the Hood River Valley, carrying the region's famous fruit and forest products to market. These days the railroad, officially designated a National Historic Site, rolls through some of Oregon's most beautiful scenery. At each turn of the track, another gorgeous view stretches before you.