Beautifully engraved issued certificate from the Playboy Enterprises, Inc. . This historic document was printed by the American Banknote Company and has an ornate border around it with a vignette of the nude Miss February 1971, Willy Rey and the Playboy bunny logo. This item has the printed signatures of the Company's President ( Hugh Hefner ) and Secretary. The issued blue certificates have become extremely popular and very hard to find. Tiny pin holes from staples.
Certificate Vignette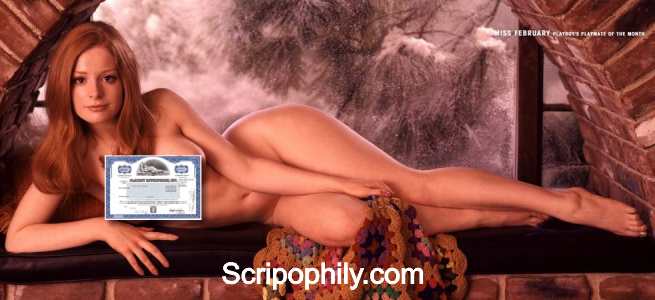 Actual Willy Rey Centerfold ( Certificate Added )
Willy Rey (born Wilhelmina Rietveld on 25 August 1949 in Rotterdam, the Netherlands, died 13 August 1973 in Vancouver, British Columbia) was a Dutch-Canadian model. She was Playboy magazine's Playmate of the Month for its February 1971 issue. Her centerfold was photographed by Mario Casilli. When she was 6 years old, her family moved from the Netherlands to Canada. Willy Rey's nude likeness adorned the stock certificate of Playboy Enterprises at the time of its Initial Public Offering on 3 November 1971.
Playboy is an American men's magazine that features photographs of nude women as well as journalism and fiction. It was founded in Chicago in 1953 by Hugh Hefner and his associates, and funded in part by a $1,000 loan from Hefner's mother. The magazine has grown into Playboy Enterprises, Inc., with a presence in nearly every medium. Playboy is one of the world's best known brands. In addition to the flagship magazine in the United States, special nation-specific versions of Playboy are published worldwide.
The magazine has a long history of publishing short stories by notable novelists such as Arthur C. Clarke, Ian Fleming, Vladimir Nabokov, Chuck Palahniuk, P. G. Wodehouse and Margaret Atwood. With a regular display of full-page color cartoons, it became a showcase for notable cartoonists, including Jack Cole, Eldon Dedini, Jules Feiffer, Shel Silverstein, Erich Sokol[5] and Rowland B. Wilson.
Playboy features monthly interviews of notable public figures, such as artists, architects, economists, composers, conductors, film directors, journalists, novelists, playwrights, religious figures, politicians, athletes and race car drivers. The magazine generally reflects a liberal editorial stance.
By spring 1953, Hugh Hefner—a 1949 University of Illinois psychology graduate who had worked in Chicago for Esquire magazine writing promotional copy; Publisher's Development Corporation in sales and marketing; and Children's Activities magazine as circulation promotions manager—had planned out the elements of his own magazine, that he would call Stag Party. He formed HMH Publishing Corporation, and recruited his friend Eldon Sellers to find investors. Hefner eventually raised just over $8,000, including from his brother and mother. However, the publisher of an unrelated men's adventure magazine, Stag, contacted Hefner and informed him it would file suit to protect their trademark if he were to launch his magazine with that name. Hefner, his wife Millie, and Sellers met to seek a new name, considering "Top Hat", "Gentleman", "Sir'", "Satyr", "Pan" and "Bachelor" before Sellers suggested "Playboy".
The first issue, in December 1953, was undated, as Hefner was unsure there would be a second. He produced it in his Hyde Park kitchen. The first centerfold was Marilyn Monroe, although the picture used originally was taken for a calendar rather than for Playboy. The first issue sold out in weeks. Known circulation was 53,991.[17] The cover price was 50¢. Copies of the first issue in mint to near mint condition sold for over $5,000 in 2002. The novel Fahrenheit 451, by Ray Bradbury, was serialized in the March, April and May 1954 issues of Playboy.
The logo, the stylized profile of a rabbit wearing a tuxedo bow tie, was originally designed by art designer Art Paul for the second issue to be used as an endnote, but was adopted as the official logo and has appeared ever since. A running joke in the magazine involves hiding the logo somewhere in the cover art or photograph. Hefner said he chose the rabbit for its "humorous sexual connotation", and because the image was "frisky and playful".
An urban legend started about Hefner and the Playmate of the Month because of markings on the front covers of the magazine. From 1955 to 1979 (except for a six-month gap in 1976), the "P" in Playboy had stars printed in or around the letter. The legend stated that this was either a rating that Hefner gave to the Playmate according to how attractive she was, the number of times that Hefner had slept with her, or how good she was in bed. The stars, between zero and 12, actually indicated the domestic or international advertising region for that printing.
History from Wikipedia and
OldCompany.com
(old stock certificate research service)