Beautifully engraved issued certificate from the Playboy Enterprises, Inc. issued in 1972. This historic document was printed by the American Banknote Company and has an ornate border around it with a vignette of the nude Miss February 1971, Willy Rey and the Playboy bunny logo. This item has the printed signatures of the Company's President ( Hugh Hefner ) and Secretary. These certificates have become extremely popular and very hard to find. EF+. Playboy Enterprises, Inc. is no longer a public company.
Certificate Vignette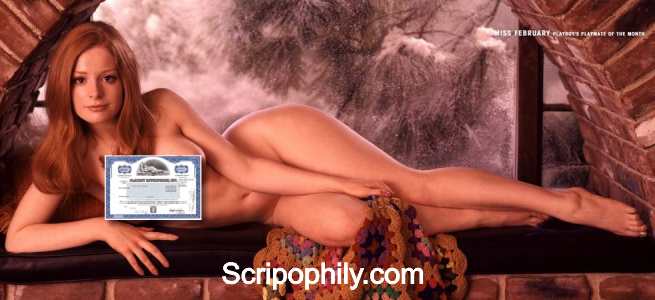 Actual Willy Rey Centerfold ( Certificate Added )
Certificate Vignette
Printed Signature of Hugh Hefner
Playboy, founded by Hugh Hefner in 1953, expanded around the globe in the 1960s and '70s when Hefner ran the company. The company went public in 1971 and circulation hit 7.2 million for one issue in 1972.
The company, which also produces television content and licenses its logo, has seen magazine circulation and revenue drop in recent years. Last year, the company reduced Playboy magazine's rate base, the total of newsstand and subscription sales guaranteed to advertisers, to 1.5 million from 2.6 million.
Playboy is the world's best-selling men's magazine. Almost nine million American adults read Playboy every month, and the magazine's U.S. circulation rate base of 3.15 million is larger than that of Esquire, GQ, Details and Rolling Stone combined. Additionally, an estimated five million adults read the 14 international editions of the magazine, bringing Playboy's global readership to almost 15 million.
* Capitalizing on Playboy's global recognition and reputation, the Company more than 25 years ago began expanding its publishing franchise into international editions, books and Newsstand Specials. Locally produced editions of Playboy are published in 14 countries: Germany (1972), Italy (1972), Japan (1975), Brazil (1975), Spain (1978), Australia (1979), Netherlands (1983), Greece (1985), Czech Republic (1991), Poland (1992), Russia (1995), Taiwan (1995), Croatia (1997) and Slovakia (1997).
* Since its creation in 1953, Playboy has published a rich editorial mix of fiction, articles and interviews. Among the literary talents who have contributed to the magazine are fiction authors Scott Turow, John Updike, Joyce Carol Oates, Tom Clancy, Kurt Vonnegut, Saul Bellow, Stanley Elkin, Margaret Atwood, Harold Robbins and Mickey Spillane, and journalists David Halberstam, Robert Scheer and Nat Hentoff. Each month, the Playboy Interview features provocative, in-depth conversations with newsworthy personalities such as Dennis Rodman, Tommy Hilfiger, Bob Kerstein, David Mamet, Mike Tyson, Michael Jordan, Phil Kass, John Travolta, Bill Gates and Betty Friedan. Celebrity profiles and pictorials, service features, the politically voluble Playboy Forum and regular columns on relationships, fitness, personal finance, music, movies and style complete the comprehensive editorial package.
* Beautiful women have always been an integral part of Playboy magazine. Besides the ubiquitously popular Playboy Playmate featured in every issue, the magazine also has showcased photography of some of the world's best-known actresses, models and celebrities, including Farrah Fawcett, Katarina Witt, Cindy Crawford, Sharon Stone, Kim Basinger, Stephanie Seymour and Bo Derek.