Beautiful Consolidated Stock Certificate from the Republic of Poyais dated in 1827. This historic document has a vignette of the Poyais coat of arms . This item has the printed signatures of the Company's Officers and is over 191 years old. Unused coupons are attached to both side the bond. This certificate is handsigned by Sir Gregor Mac Gregor. This document shows signs of wear as can be seen in the scan. but overall is in fine condition.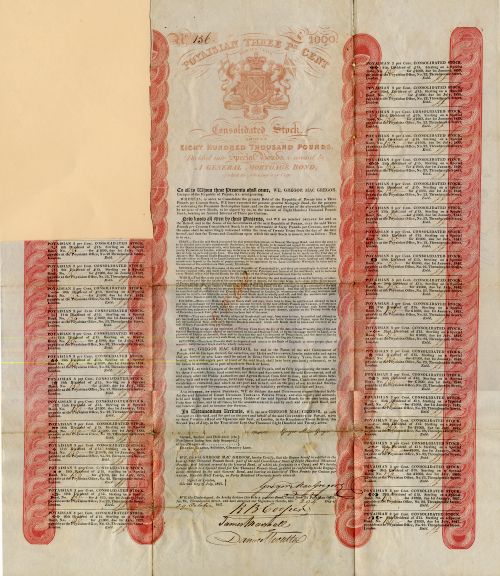 Shown with coupons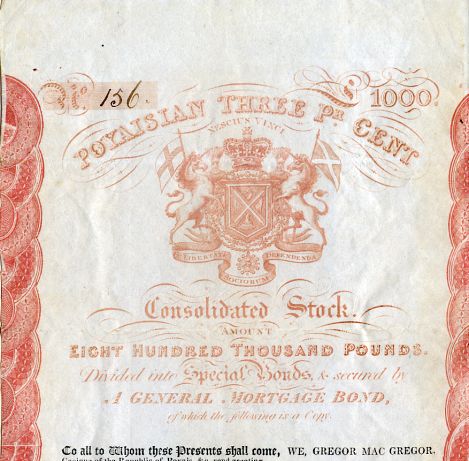 Certificate Vignette

Certificate shown without coupons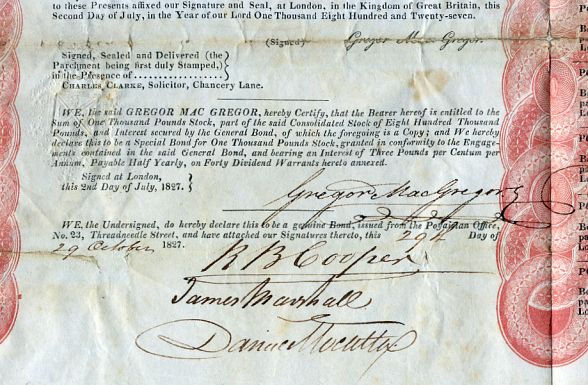 Signatures
Mac Gregor was a Scottish mercenary with Simon Bolivar in the Venezuelan fight for independence from Spain, around 1820; he was appointed a general. After expelling the Spanish from the 'Mosquito Coast' area, he arranged a land grant from the leader of the local people (the Mosquito, today Miskito, Indians). In 1823 he was the self-proclaimed Cazique of Poyais, and visited Britain to encourage Scottish emigration to what he described as a thriving population who had found their fortune on the streets of St Joseph and in the gold mines of the balmy country that surrounded it. One Scot swapped his sterling for Poyaisian dollars, bought some bonds in the country and boarded ship in Leith with a promise that he was to become the director of the St Joseph Opera House. However, when the emigrants arrived they found that there was no St Joseph at all; no opera house, no gold mines, no thriving population (apart from some deeply suspicious Miskito Indians - after whom, rather than the insects, the Mosquito Coast is named) and no habitable European settlement. They had in fact invested their savings in tracts of jungle impossibly far from the nearest source of provisions and impregnated with the tropical diseases so fatal to European constitutions. Gregor MacGregor sold similar worthless certificates and other Poyaisian material in both Britain and France during the 1820s and 1830s. Despite the clearly fraudulent nature of his promises, Mac Gregor was never convicted of any crime - although he served a short jail term in France awaiting a trial that never came about - and eventually retired to Venezuela where he wrote his autobiography.