Beautiful early U.S. stock certificate from A Republican Institution issued in 1821. This historic document has a vignette an eagle holding a ribbon with the motto "E Pluribus Unum" in its beak, and arrows and an olive branch in its claws. Affixed at left is the large embossed corporate seal which indicates that the Republican Institution was incorporated in 1819. Libertati Tum Patrie attached to and extending below the paper seal is a blue ribbon. This stock certificate is signed by Henry Dearborn as President and Thaddeus Page as Recording Secretary and is over 189 years old. The printers are True & Green, Merchant's Hall, Boston. An interesting and very rare stock certificate related to an early United States political organization.

Henry Dearborn and Thaddeus Page signatures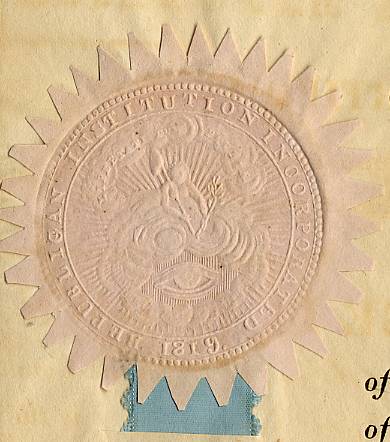 Unique Seal
Certificate Vignette
A Republican Institution was founded in 1819 as a forum to promote political thought and discussion despite differences in political affiliation for the good of the nation as a whole. Its intent was to provide a forum for political education and discussion of the best means of promoting national welfare. The Republican Institution included the leading Whig political party members at the time. It was actually a "think tank" of the Whig party in Massachusetts. The Whig party was a forerunner of today's Republican party. Henry Dearborn (1751-1829); Revolutionary War general; Congressman; U.S. Secretary of War. Dearborn served with distinction during the Revolutionary War, retiring from the service in 1783 as a member of Washington's staff. He became a national political figure in the Republican party and served in the U.S. House of Representatives (1793-1797), and as Jefferson's Secretary of War (1801-1809). At the outbreak of the War of 1812, Madison made Dearborn the senior major-general in the U.S. Army. After the war, Dearborn left New Hampshire and He retired to his home in Roxbury, Mass., where he died in 1829. Dearborn, Michigan is named in his honor.