Beautifully engraved RARE Specimen Proof certificate from Shearson Lehman Brothers Holdings Inc printed around 1987. This historic document was printed by the Security Columbian Banknote Company and has a vignette of an allegorical woman holding a torch and globe.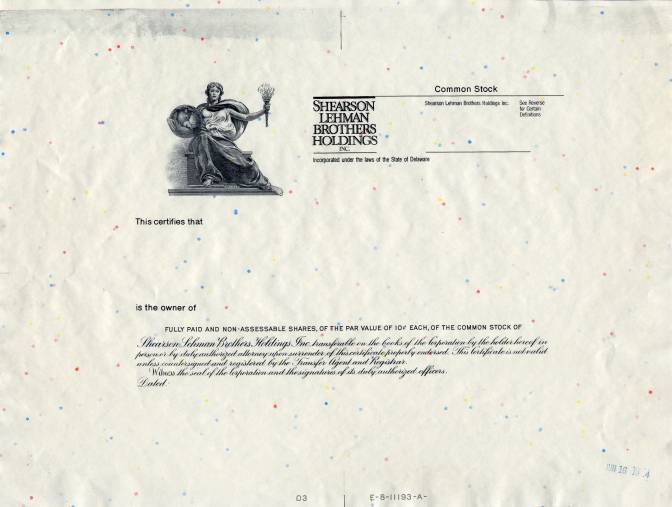 Certificate Vignette
Lehman Brothers Holdings Inc. was a global financial-services firm active prior to its bankruptcy and sale in 2008. The firm did business in investment banking, equity and fixed-income sales, research and trading, investment management, private equity, and private banking. It was a primary dealer in the U.S. Treasury securities market. Its primary subsidiaries included Lehman Brothers Inc., Neuberger Berman Inc., Aurora Loan Services, Inc., SIB Mortgage Corporation, Lehman Brothers Bank, FSB, Eagle Energy Partners, and the Crossroads Group. The firm's worldwide headquarters were in New York City, with regional headquarters in London and Tokyo, as well as offices located throughout the world. On September 15, 2008, the firm filed for Chapter 11 bankruptcy protection; the filing marks the largest bankruptcy in U.S. history. The following day, Barclays plc announced its agreement to purchase, subject to regulatory approval, Lehman's North American investment-banking and trading divisions along with its New York headquarters building. On September 20, 2008, a revised version of that agreement was approved by Judge James Peck. On September 22, 2008, Nomura Holdings, Inc. announced it agreed to acquire Lehman Brothers' franchise in the Asia Pacific region including Japan and Australia.[6] The following day, Nomura announced its intentions to acquire Lehman Brothers' investment banking and equities businesses in Europe and the Middle East. A few weeks later it was announced that conditions to the deal had been met, and the deal became legally effective on Monday, 13 October. In 2007, non-US subsidiaries of Lehman Brothers were responsible for over 50% of global revenue produced. History Under the Lehman family (18501969) In 1844, 23-year-old Henry Lehman, the son of a cattle merchant, emigrated to the United States from Rimpar, Bavaria. He settled in Montgomery, Alabama,[9] where he opened a dry-goods store, "H. Lehman". In 1847, following the arrival of Emanuel Lehman, the firm became "H. Lehman and Bro." With the arrival of their youngest brother, Mayer Lehman, in 1850, the firm changed its name again and "Lehman Brothers" was founded. In the 1850s Southern United States, cotton was one of the most important crops. Capitalizing on cotton's high market value, the three brothers began to routinely accept raw cotton from customers as payment for merchandise, eventually beginning a second business trading in cotton. Within a few years this business grew to become the most significant part of their operation. Following Henry's death from yellow fever in 1855, the remaining brothers continued to focus on their commodities-trading/brokerage operations. By 1858, the center of cotton trading had shifted from the South to New York City, where factors and commission houses were based. Lehman opened its first branch office in New York City's Manhattan borough at 119 Liberty Street,and 32-year-old Emanuel relocated there to run the office. In 1862, facing difficulties as a result of the Civil War, the firm teamed up with a cotton merchant named John Durr to form Lehman, Durr & Co. Following the war the company helped finance Alabama's reconstruction. The firm's headquarters were eventually moved to New York City, where it helped found the New York Cotton Exchange in 1870. Emanuel sat on the Board of Governors until 1884. The firm also dealt in the emerging market for railroad bonds and entered the financial-advisory business. Lehman became a member of the Coffee Exchange as early as 1883 and finally the New York Stock Exchange in 1887.In 1899, it underwrote its first public offering, the preferred and common stock of the International Steam Pump Company. Despite the offering of International Steam, the firm's real shift from being a commodities house to a house of issue did not begin until 1906. In that year, under Philip Lehman, the firm partnered with Goldman, Sachs & Co.,[18][19] to bring the General Cigar Co. to market,[20] followed closely by Sears, Roebuck and Company [20]. During the following two decades, almost one hundred new issues were underwritten by Lehman, many times in conjunction with Goldman, Sachs. Among these were F.W. Woolworth Company,[21][20] May Department Stores Company, Gimbel Brothers, Inc.,[22] R.H. Macy & Company, The Studebaker Corporation,[21] the B.F. Goodrich Co. and Endicott Johnson Corporation. Official U.S. Senate PhotoFollowing Philip Lehman's retirement in 1925, his son Robert "Bobbie" Lehman took over as head of the firm. During Bobbie's tenure, the company weathered the capital crisis of the Great Depression by focusing on venture capital while the equities market recovered. By 1928, the firm moved to its now famous One William Street location. Traditionally, a family-only partnership, in 1924 John M. Hancock became the first non-family member to join the firm,[18][23] followed by Monroe C. Gutman and Paul Mazur in 1927. In the 1930s, Lehman underwrote the initial public offering of the first television manufacturer, DuMont, and helped fund the Radio Corporation of America (RCA).[24] It also helped finance the rapidly growing oil industry, including the companies Halliburton and Kerr-McGee. In the 1950s, Lehman underwrote the IPO of Digital Equipment Corporation. Later, it arranged the acquisition of Digital by Compaq. Robert Lehman died in 1969,[25] and since that time, no member of the Lehman family has led the company. Robert's death left a void in the company, which, coupled with a difficult economic environment, brought hard times to the firm. In 1973, Pete Peterson, Chairman and Chief Executive Officer of the Bell & Howell Corporation, was brought in to save the firm.[25] Merger with American Express (196994) Under Peterson's leadership as Chairman and CEO, the firm acquired Abraham & Co. in 1975, and two years later merged with the venerable, but struggling, Kuhn, Loeb & Co., to form Lehman Brothers, Kuhn, Loeb Inc., the country's fourth-largest investment bank, behind Salomon Brothers, Goldman Sachs and First Boston. Peterson led the firm from significant operating losses to five consecutive years of record profits with a return on equity among the highest in the investment-banking industry. However, hostilities between the firm's investment bankers and traders (who were driving most of the firm's profits) prompted Peterson to promote Lewis Glucksman, the firm's President, COO and former trader, to be his co-CEO in May 1983. Glucksman introduced a number of changes that had the effect of increasing tensions, which when coupled with Glucksman's management style and a downturn in the markets, resulted in a power struggle that ousted Peterson and left Glucksman as the sole CEO. Upset bankers, who had soured over the power struggle, left the company. Steve Schwarzman, chairman of the firm's M&A committee, recalled in a February 2003 interview with Private Equity International that "Lehman Brothers had an extremely competitive internal environment, which ultimately became dysfunctional." The company suffered under the disintegration, and Glucksman was pressured into selling the firm to Shearson, an American Express-backed electronic transaction company, in 1984, for $360 million. On May 11, the combined firms became Shearson Lehman/American Express.[27] In 1988, Shearson Lehman/American Express and E.F. Hutton & Co. merged as Shearson Lehman Hutton Inc. Divestment and independence (1994present) In 1993, under newly appointed CEO, Harvey Golub, American Express began to divest itself of its banking and brokerage operations. It sold its retail brokerage and asset management operations to Primerica[29] and in 1994 it spun off Lehman Brothers Kuhn Loeb in an initial public offering, as Lehman Brothers Holdings, Inc. Despite rumors that it would be acquired again, Lehman performed quite well under CEO Richard S. Fuld, Jr.. In 2001, the firm acquired the private-client services, or "PCS", business of Cowen & Co. and later, in 2003, aggressively re-entered the asset-management business, which it had exited in 1989.[32] Beginning with $2 billion in assets under management, the firm acquired the Crossroads Group, the fixed-income division of Lincoln Capital Management[32] and Neuberger Berman. These businesses, together with the PCS business and Lehman's private-equity business, comprised the Investment Management Division, which generated approximately $3.1 billion in net revenue and almost $800 million in pre-tax income in 2007. Prior to going bankrupt, the firm had in excess of $275 billion in assets under management. Altogether, since going public in 1994, the firm had increased net revenues over 600% from $2.73 billion to $19.2 billion and had increased employee headcount over 230% from 8,500 to almost 28,600. Response to September 11 terrorist attacks The New York City headquarters.On September 11, 2001, Lehman occupied three floors of One World Trade Center where one employee was killed. Its global headquarters in Three World Financial Center were severely damaged and rendered unusable by falling debris, displacing over 6,500 employees. The bank recovered quickly and rebuilt its presence. Trading operations moved across the Hudson River to its Jersey City, New Jersey, facilities, where an impromptu trading floor was built and brought online less than forty-eight hours after the attacks. When stock markets reopened on September 17, 2001, Lehman's sales and trading capabilities were restored. In the ensuing months, the firm fanned out its operations across the New York City metropolitan area in over forty temporary locations. Notably, the investment-banking division converted the first-floor lounges, restaurants, and all 665 guestrooms of the Sheraton Manhattan Hotel into office space. The bank also experimented with flextime (to share office space) and telecommuting via virtual private networking. In October 2001, Lehman purchased a 32-story, 1,050,000-square-foot office building for a reported sum of $700 million. The building, located at 745 Seventh Avenue, had recently been built, and not yet occupied, by rival Morgan Stanley. With Morgan Stanley's world headquarters located only two blocks away at 1585 Broadway, in the wake of the attacks the firm was re-evaluating its office plans which would have put over 10,000 employees in the Times Square area of New York City. Lehman began moving into the new facility in January and finished in March 2002, a move that significantly boosted morale throughout the firm. The firm was criticized for not moving back to its former headquarters in lower Manhattan. Following the attacks, only Deutsche Bank, Goldman Sachs, and Merrill Lynch of the major firms remained in the downtown area. Lehman, however, points to the facts that it was committed to stay in New York City, that the new headquarters represented an ideal circumstance where the firm was desperate to buy and Morgan Stanley was desperate to sell, that when the new building was purchased, the structural integrity of Three World Financial Center had not yet been given a clean bill of health, and that in any case, the company could not have waited until May 2002 for repairs to Three World Financial Center to conclude. After the attacks, Lehman's management placed increased emphasis on business continuity planning. Unlike its rivals, the company was unusually concentrated for a bulge-bracket investment bank. For example, Morgan Stanley maintains a 750,000-square-foot trading-and-banking facility in Westchester County, New York. The trading floor of UBS is located in Stamford, Connecticut. Merrill Lynch's asset-management division is located in Plainsboro Township, New Jersey. Aside from its headquarters in Three World Financial Center, Lehman maintained operations-and-backoffice facilities in Jersey City, space that the firm considered leaving prior to 9/11. The space was not only retained, but expanded, including the construction of a backup-trading facility. In addition, telecommuting technology first rolled out in the days following the attacks to allow employees to work from home was expanded and enhanced for general use throughout the firm. [34] In 2003, the company was one of ten firms which simultaneously entered into a settlement with the U.S. Securities and Exchange Commission (SEC), the Office of the New York State Attorney General and various other securities regulators, regarding undue influence over each firm's research analysts by their investment-banking divisions. Specifically, regulators alleged that the firms had improperly associated analyst compensation with the firms' investment-banking revenues, and promised favorable, market-moving research coverage, in exchange for underwriting opportunities. The settlement, known as the "global settlement", provided for total financial penalties of $1.4 billion, including $80 million against Lehman, and structural reforms, including a complete separation of investment banking departments from research departments, no analyst compensation, directly or indirectly, from investment-banking revenues, and the provision of free, independent, third-party, research to the firms' clients. In August 2007, the firm closed its subprime lender, BNC Mortgage, eliminating 1,200 positions in 23 locations, and took an after-tax charge of $25 million and a $27 million reduction in goodwill. Lehman said that poor market conditions in the mortgage space "necessitated a substantial reduction in its resources and capacity in the subprime space". In 2008, Lehman faced an unprecedented loss to the continuing subprime mortgage crisis. Lehman's loss was apparently a result of having held on to large positions in subprime and other lower-rated mortgage tranches when securitizing the underlying mortgages; whether Lehman did this because it was simply unable to sell the lower-rated bonds, or made a conscious decision to hold them, is unclear. In any event, huge losses accrued in lower-rated mortgage-backed securities throughout 2008. In the second fiscal quarter, Lehman reported losses of $2.8 billion and was forced to sell off $6 billion in assets. In the first half of 2008 alone, Lehman stock lost 73% of its value as the credit market continued to tighten. In August 2008, Lehman reported that it intended to release 6% of its work force, 1,500 people, just ahead of its third-quarter-reporting deadline in September. On August 22, 2008, shares in Lehman closed up 5% (16% for the week) on reports that the state-controlled Korea Development Bank was considering buying the bank. Most of those gains were quickly eroded as news came in that Korea Development Bank was "facing difficulties pleasing regulators and attracting partners for the deal." It culminated on September 9, when Lehman's shares plunged 45% to $7.79, after it was reported that the state-run South Korean firm had put talks on hold. Investor confidence continued to erode as Lehman's stock lost roughly half its value and pushed the S&P 500 down 3.4% on September 9. The Dow Jones lost 300 points the same day on investors' concerns about the security of the bank. [40] The U. S. government did not announce any plans to assist with any possible financial crisis that emerged at Lehman. The next day, Lehman announced a loss of $3.9 billion and their intent to sell off a majority stake in their investment-management business, which includes Neuberger Berman. The stock slid 7 percent that day. Lehman, after earlier rejecting questions on the sale of the company, was reportedly searching for a buyer as its stock price dropped another 40 percent on September 11, 2008. Just before the collapse of Lehman Brothers, executives at Neuberger Berman sent e-mail memos suggesting, among other things, that the Lehman Brothers' top people forgo multi-million dollar bonuses to "send a strong message to both employees and investors that management is not shirking accountability for recent performance." Lehman Brothers Investment Management Director George Herbert Walker IV, second cousin to U. S. President George Walker Bush, dismissed the proposal, going so far as to actually apologize to other members of the Lehman Brothers executive committee for the idea of bonus reduction having been suggested. He wrote, "Sorry team. I am not sure what's in the water at Neuberger Berman. I'm embarrassed and I apologize." On September 13, 2008, Timothy F. Geithner, the president of the Federal Reserve Bank of New York called a meeting on the future of Lehman, which included the possibility of an emergency liquidation of its assets.[45] Lehman reported that it had been in talks with Bank of America and Barclays for the company's possible sale. However, both Barclays and Bank of America ultimately declined to purchase the entire company. The International Swaps and Derivatives Association (ISDA) offered an exceptional trading session on Sunday, September 14, 2008, to allow market participants to offset positions in various derivatives on the condition of a Lehman bankruptcy later that day. Although the bankruptcy filing missed the deadline, many dealers honored the trades they made in the special session. In New York, shortly before 1 a.m. the next morning, Lehman Brothers Holdings announced it would file for Chapter 11 bankruptcy protection citing bank debt of $613 billion, $155 billion in bond debt, and assets worth $639 billion. It further announced that its subsidiaries will continue to operate as normal. A group of Wall Street firms agreed to provide capital and financial assistance for the bank's orderly liquidation and the Federal Reserve, in turn, agreed to a swap of lower-quality assets in exchange for loans and other assistance from the government. The morning of September 15 witnessed scenes of Lehman employees removing computers, files, items with the company logo, and other belongings from the world headquarters at 745 Seventh Avenue. The spectacle continued throughout the day and into the following day. Some also signed a large pencil-drawn picture of CEO Richard S. Fuld, Jr., many of them denouncing him for greed and incompetence. Lehman's bankruptcy is the largest failure of an investment bank since Drexel Burnham Lambert collapsed amid fraud allegations 18 years prior. Later that day, the Australian Securities Exchange (ASX) suspended Lehman's Australian subsidiary as a market participant after clearing-houses terminated their contracts with the firm. Lehman shares tumbled over 90% on September 15, 2008. The Dow Jones closed down just over 500 points on September 15, 2008, which was at the time the largest drop in a single day since the days following the attacks on September 11, 2001. In the United Kingdom, the investment bank went into administration with PricewaterhouseCoopers appointed as administrators.[58] In Japan, the Japanese branch, Lehman Brothers Japan Inc., and its holding company filed for civil reorganization on September 16, 2008, in Tokyo District Court. On Tuesday, September 16, 2008, Barclays plc announced that they will acquire a "stripped clean" portion of Lehman for $1.75 billion, including most of Lehman's North America operations.[60][3] On September 20, this transaction was approved by U.S. Bankruptcy Judge James Peck[61][62] On September 17, 2008, the New York Stock Exchange delisted Lehman Brothers. On September 17, 2008, Paul Brough, Edward Middleton and Patrick Cowley of KPMG China become the provisional liquidators appointed over Lehman's two Hong Kong based units - Lehman Brothers Securities Asia Limited and Lehman Brothers Futures Asia Limited.[64] They are also appointed as the provisional liquidators for three further Hong Kong based Lehman Brothers companies, Lehman Brothers Asia Holdings Limited, Lehman Brothers Asia Limited and Lehman Brothers Commercial Corporation Asia Limited on 18 September 2008.[65] Nomura Holdings, Japan's top brokerage firm, agreed to buy both European and Asian division of Lehman Brothers for a nominal fee of $2 and $225 million, respectively.[66][67] It would not take on any trading assets or liabilities in the European units. The last Lehman Brothers Annual Report identified that these non-US subsidiaries of Lehman Brothers were responsible for over 50% of global revenue produced.[68] On October 6, 2008, CEO Richard Fuld testified before Congress. Rep. Waxman alleged that Fuld had made nearly $500M since 2000, while guiding Lehman to bankruptcy. Waxman said to Fuld, "My question is a simple one. Is this fair?" Fuld explained that he was not actually paid that total of cash. Instead, he received options and other incentives that are supposedly worthless after the bankruptcy. On October 17, 2008, CNBC reported that several Lehman Brothers executives, including Richard Fuld have been subpoenaed in a case relating to alleged securities fraud. On September 20, 2008, a revised version of the deal, a $1.35 billion (£700 million) plan for Barclays Plc to acquire the core business of Lehman (mainly its $960-million headquarters, a 38-story office building[69] in Midtown Manhattan, with responsibility for 9,000 former employees), was approved. Manhattan court bankruptcy Judge James Peck, after a 7-hour hearing, ruled: "I have to approve this transaction because it is the only available transaction. Lehman Brothers became a victim, in effect the only true icon to fall in a tsunami that has befallen the credit markets. This is the most momentous bankruptcy hearing I've ever sat through. It can never be deemed precedent for future cases. It's hard for me to imagine a similar emergency."[70] Luc Despins, the creditors committee counsel, said: "The reason we're not objecting is really based on the lack of a viable alternative. We did not support the transaction because there had not been enough time to properly review it." In the amended agreement, Barclays would absorb $47.4 billion in securities and assume $45.5 billion in trading liabilities. Lehman's attorney Harvey R. Miller of Weil, Gotshal & Manges, said "the purchase price for the real estate components of the deal would be $1.29 billion, including $960 million for Lehman's New York headquarters and $330 million for two New Jersey data centers. Lehman's original estimate valued its headquarters at $1.02 billion but an appraisal from CB Richard Ellis this week valued it at $900 million." Further, Barclays will not acquire Lehman's Eagle Energy unit, but will have entities known as Lehman Brothers Canada Inc, Lehman Brothers Sudamerica, Lehman Brothers Uruguay and its Private Investment Management business for high net-worth individuals. Finally, Lehman will retain $20 billion of securities assets in Lehman Brothers Inc that are not being transferred to Barclays.[71] Barclays acquired a potential liability of $2.5 billion to be paid as severance, if it chooses not to retain some Lehman employees beyond the guaranteed 90 days. On October 21, 2008, creditors of Lehman Brothers who had acquired credit default swaps in order to hedge them against the risk of a Lehman bankruptcy were scheduled to settle those accounts. This event appears significantly to have affected AIG, which issued many of the Lehman CDSs. The amount of the settlement was estimated to be between $100 billion and $400 billion. However this is a gross figure, with many institutions holding both long and short positions which could be netted off. The net transfers required in the settlement of Lehman CDS's was expected to be in the order of US$6bn. History from Wikipedia and OldCompanyResearch.com (old stock certificate research service).
---
Peter A. Cohen is currently Vice Chairman of Forbes since February 2003. Mr. Cohen is a founding partner and principal of Ramius Capital Group, LLC, a private investment management firm formed in 1994. From November 1992 to May 1994, Mr. Cohen was Vice Chairman and a director of Republic New York Corporation, as well as a member of its executive management committee. Mr. Cohen was also Chairman of Republic's subsidiary, Republic New York Securities Corporation. Mr. Cohen was Chairman of the Board and Chief Executive Officer of Shearson Lehman Brothers from 1983 to 1990. Mr. Cohen is a director of L-3 Communications Holdings, Inc. History from Encyberpedia and
OldCompany.com
(old stock certificate research service)
---
About Specimen Certificates
Specimen Certificates are actual certificates that have never been issued. They were usually kept by the printers in their permanent archives as their only example of a particular certificate. Sometimes you will see a hand stamp on the certificate that says "Do not remove from file". Specimens were also used to show prospective clients different types of certificate designs that were available. Specimen certificates are usually much scarcer than issued certificates. In fact, many times they are the only way to get a certificate for a particular company because the issued certificates were redeemed and destroyed. In a few instances, Specimen certificates were made for a company but were never used because a different design was chosen by the company. These certificates are normally stamped "Specimen" or they have small holes spelling the word specimen. Most of the time they don't have a serial number, or they have a serial number of 00000. This is an exciting sector of the hobby that has grown in popularity over the past several years.