Beautiful certificate from the State of Israel issued in 1968. This historic document was printed by Security-Columbia Banknote Company and has an ornate border around it with a a vignette of a group of working people with a menorah in the background. This item has the printed signatures of Israel's Prime Minister, Levi Eshkol and Minister of Finance, P. Say and is over 41 years old. This is a scarce bond because of its higher denomination of $5,000.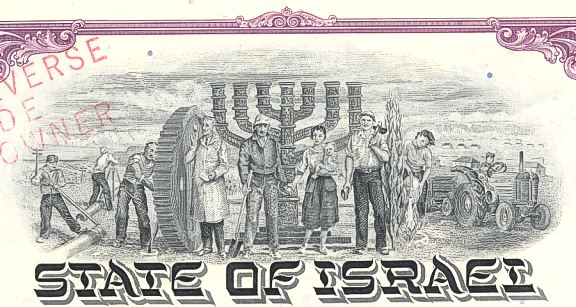 Certificate Vignette
Levi Eshkol 3rd Prime Minister of Israel In office 21 June 1963 26 February 1969 Preceded by David Ben-Gurion Succeeded by Golda Meir Oratov, Russian Empire Died 26 February 1969 (aged 73) Jerusalem, Israel Political party Mapai, Alignment Levi Eshkol was born on 25 October 1895, died 26 February 1969) served as the third Prime Minister of Israel from 1963 until his death from a heart attack in 1969. He was the first Israeli Prime Minister to die in office. Levi Shkolnik was born in the village of Oratov near Kiev, Russian Empire. His mother came from an Hasidic background and his father came from a family of Mitnagdim. Levi received a traditional education. In 1914, he left for Palestine, then part of the Ottoman Empire. He was a leading member of the Judea Workers' Union in 191517 and volunteered for the Jewish Legion in World War I. After the establishment of the State of Israel, Eshkol was elected to the Knesset in 1951 as a member of Mapai party. He served as Minister of Agriculture until 1952, when he was appointed Finance Minister following the death of Eliezer Kaplan. He held that position for the following 12 years. During his term as Finance Minister, Eshkol established himself as a prominent figure in Mapai's leadership, and was designated by Prime Minister David Ben-Gurion as his successor. When Ben-Gurion resigned in June 1963, Eshkol was elected party chairman with a broad consensus, and was subsequently appointed Prime Minister. However, his relationship with Ben-Gurion soon turned acrimonious over the latter's insistence on investigating the Lavon Affair, an Israeli covert operation in Egypt which had gone wrong a decade earlier. Ben-Gurion failed to challenge Eshkol's leadership and split from Mapai with a few of his young protégés to form Rafi in June 1965. In the meantime, Mapai merged with Ahdut HaAvoda to form the Alignment with Eshkol as its head. Rafi was defeated by the Alignment in the elections held in November 1965, establishing Eshkol as the country's indisputable leader. Yet Ben-Gurion, drawing on his influence as Israel's founding father, continued to undermine Eshkol's authority throughout his term as Prime Minister, portraying him as a spineless politician incapable of addressing Israel's security predicament. Eshkol's first term in office saw continuous economic growth, epitomized by the opening of the National Water Carrier system in 1964. His and Finance Minister Pinchas Sapir's subsequent "soft landing" of the overheated economy by means of recessive policies precipitated a drastic slump in economic activity. Israel's centralized planned economy lacked the mechanisms to self-regulate the slowdown which reached levels higher than expected. Eshkol faced growing domestic unrest as unemployment reached 12% in 1966, yet the recession eventually served in healing fundamental economic deficiencies and helped fuel the ensuing recovery of 1967-1973. Eshkol worked to improve Israel's foreign relations, establishing diplomatic relations with West Germany in 1965, as well as cultural ties with the Soviet Union which also allowed some Soviet Jews to immigrate to Israel. He was the first Israeli Prime Minister invited on an official state visit to the United States in May 1964. The special relationship he developed with President Lyndon Johnson would prove pivotal in securing US political and military support for Israel during the "Waiting period" preceding the Six Day War of June 1967. Today, Eshkol's intransigence in the face of military pressure to launch an Israeli attack is considered to have been instrumental in increasing Israel's strategic advantage as well as obtaining international legitimacy, yet at the time he was perceived as hesitant, an image cemented following a dismally stuttered radio speech on 28 May. With Egyptian President Nasser's ever more overt provocations, he eventually succumbed to public opinion and established a National Unity Government together with Menachem Begin's Herut party, reluctantly conceding the Defense portfolio to war hero Moshe Dayan, a close ally of Ben-Gurion's and a member of his Rafi party. Israel's overwhelming victory allowed Eshkol to remain Prime Minister despite never receiving recognition for his role in achieving it. In the years following the war he slowly receded due to ill health, and died while in office in February 1969. The Eshkol National Park near Beersheba has been named after him as well as the Ramot Eshkol neighborhood in Jerusalem. History from Wikipedia and OldCompany.com (old stock certificate research service).