Beautiful engraved specimen certificate from the Veteran's Welfare Bond of the State of California dated in 1928. This historic document was printed by Security Bank Note Company and has an ornate border around it with a vignette of an the California State Seal. This item has the printed signatures of the Governor, C.C. Young and Controller of the State of California, Ray L. Riley and is over 69 years old.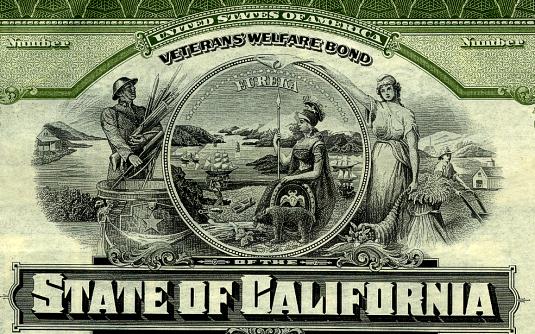 Certificate Vignette
C. C. Young 26th Governor of California - Republican (1927-1931)
Clement Calhoun Young was born in 1869, and began his career as a teacher. His students at Lowell High School in San Francisco nick-named him "C-Square." In 1912, Young was a delegate to the Bull-Moose convention in Chicago. Prior to his election as Governor he served in the State Assembly and as Lt. Governor.
It was during his term that it was decided to complete portraits of all statehood governors to hang in the halls of the capitol. However, Young refused "to be done in oils and hung," stating that as long as he was there, a picture of him would be "altogether superfluous." Young established commissions to address the major issues of the day, and worked to add to the state's surplus. His re-election campaign poster read, "Re-Elect C.C. Young - He left $31 million in the treasury."
Inaugural Address - January 4, 1927
Born April 28, 1869 Lisbon, New Hampshire
Died December 24, 1947 Berkeley, California
History from Wikipedia and OldCompanyResearch.com.
---
About Specimens
Specimen Certificates are actual certificates that have never been issued. They were usually kept by the printers in their permanent archives as their only example of a particular certificate. Sometimes you will see a hand stamp on the certificate that says "Do not remove from file".
Specimens were also used to show prospective clients different types of certificate designs that were available. Specimen certificates are usually much scarcer than issued certificates. In fact, many times they are the only way to get a certificate for a particular company because the issued certificates were redeemed and destroyed. In a few instances, Specimen certificates we made for a company but were never used because a different design was chosen by the company.
These certificates are normally stamped "Specimen" or they have small holes spelling the word specimen. Most of the time they don't have a serial number, or they have a serial number of 00000. This is an exciting sector of the hobby that grown in popularity over the past several years.