| | | |
| --- | --- | --- |
| | | Bond used in Beverly Hills Cop Movie 1984 |
Now you can own a piece of movie history. This is a beautifully engraved authentic Movie Prop Bond (and coupons) used in the motion picture Beverly Hills Cop starring Eddie Murphy, Judge Reinhold and Paul Reiser. This movie prop document was made from three different types of German Bonds that have a vignette of cherubs and a underprint of the German Eagle Coat of Arms. The studios used offset printing in the preparartion of this bond.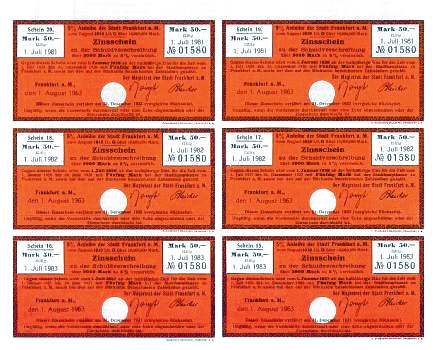 These are the coupons attached to the bond


In the movie Eddie Murphy heads to Beverly Hills after his friend is murdered (Mikey Tandino played by James Russo)to track down the killer. His friend has been murdered due to the fact that he stole these 10,000 Mark German Bonds, so the whole movie plot is centered around this bond. Please look at the scans and you CAN SEE THESE EXACT BONDS that were used. See the actual scans below from the movie (approximately 13 1/2 minutes ) to show you the bonds. In the movie, you see the side with the six "coupons", then his friend lays them down on the table and points to them to show the denomination on the opposite side. The forth scan down shows the bond laid flat so that you can see both sides that are shown in the movie. You can see Murphy's friend pulling the bonds out of the sack, showing them to him and telling him about taking 10,000 Mark bonds. These bonds were also shown later on in the movie in a warehouse scene.





Eddie Murphy's friend is Pulling Out the Bonds



Bonds sitting on the table



Eddie Murphy holding the bonds


If you have ever been involved in Movie or TV Production in Los Angeles, it is almost certain you've had dealings with Ellis Props and Graphics Partners, or Ellis Mercantile as most old-timers call it. Ellis Mercantile was established as a pawn shop in 1908. When a customer needing a glass eye for one of the earliest movie productions suggested that he rent the glass eye instead of purchasing it, the rental business was started. Over the years, Ellis props have been used on countless famous movies and well-known TV productions. Ben-Hur, Cleopatra, Spartacus, The Titanic, Get Smart and Wild Wild West to name but a few.

Certificate of Authenticity

Ellis, owned by the Tapestry Group, last year closed shop, due to failing profits combined with runaway production concerns. Over five days in early June 2000, nearly a century worth of movie props were auctioned off at the Universal Hilton and via the Internet. Everything from Ellis' 40,000 square feet of props went on the block. Attendees could bid on antiques and collectibles such as an operating Gatling gun from circa 1872, used in Clint Eastwood's The Outlaw Josey Wales, life preservers from The Titanic, the baby carriage from De Palma's The Untouchables, light sabers from Star Wars, the umbrella phone from Get Smart, as well as movie used real prop money which we acquired.


Scripophily.com and Old Company Research Press Releases

BBC Radio Interview on 12/02/2014 with Bob Kerstein discussing
reputiated German, Russian, Chinese and Confederate Debt
See Stock Certificate Expert Bob Kerstein, CEO Scripophily.com
discuss Stock Certificates in Bloomberg , the Associated Press ,
CNBC with Jane Wells discussing the Facebook IPO,
Inside Edition and the Today Show
Subscribe to our New Free RSS New Products Feed in a Reader
Subscribe to Our New Product Additions Feed by Email
WASHINGTON, DC / NEW YORK - Scripophily.com / Old Company Stock and Bond Research Service owns and operates the Old Stock & Bond Research Archives from Herzog & Co., Inc (formally RM Smythe research) which was acquired from John Herzog, founder of the Museum of American Finance and past Chairman of RM Smythe & Co. This acquisition included all RM Smythe Research archives, publishing rights and copyrights on obsolete research reference material published by the Marvyn Scudders Manuals, the Robert D. Fisher Manuals, and the Herzog & Co., Inc. obsolete research services. The old stock research services have been performed continuously since 1880.
Scripophily.com / Old Company Research Service was founded by Internet Pioneer, Bob Kerstein, CPA who is a member of the American Institute of Certified Public Accountants, Chartered Global Management Accountants, California Society of Certified Public Accountants, and the Virginia Society of Certified Public Accountants. We have been collecting and selling old stock and bond certificates since 1990. Scripophily.com started operating on the Internet in January 1996 with the goal to promote the history of old companies and help educate everyone about the wonderful hobby of collecting stock and bond certificates called Scripophily.
We will always maintain our founding commitment to customer satisfaction and the delivery of an educational product with an enjoyable shopping experience. Please let us know how we may be of service to you.


Note: All Old Stock and Bond Certificates are actual authentic certificates and are sold only as collectibles. We do not sell reproductions and offer a lifetime guarantee to the authenticity of everything we sell.

All Rights Reserved. © 1996 - 2015 Scripophily.com ©, Scripophily.net (tm), Wall Street History - Lost and Found (sm), Bob.com ©, ConfederateBonds.com, CSABonds.com, SavingsBonds.pro (United States Savings Bonds), StockLedger.com, Retro Stocks (tm), Old Company Research (tm), Occupy Wall Space (tm), RM Smythe Stock Research, Stock Research Professional, Business Hall of Fame (tm), Old Stock Certificate Research, Old Stock Exchange ©, Gift of History (sm), Liberty Loans, Liberty Bonds, LibertyBonds.com, Marvyn Scudders Manuals, Robert D. Fisher Manuals, Scripophily Exchange (tm), EBITDA.com., PSTA - Professional Scripophily Traders Association, Stock Research Service, OldCompany.com, StockCalendar.com, PSTA.COM, Bob Kerstein, CPA, CGMA - The Old Stock Detective © and Encyberpedia ©. You may link to the site, but please do not copy any images or information without our expressed written permission. If you are publishing a book for educational purposes or with the press, please contact us directly at 703-787-3552 for use of our content.


American Institute of
Certified Public Accountants


Virginia Society CPA's
Bob Kerstein, Member






American Numismatic Association

Securities and Exchange
Commission Historical Society

Society of Paper Money Collectors
Member

Better Business
Bureau Member
Rated A+