| | | |
| --- | --- | --- |
| | | Melones Mining Company - Melones, California 1899 |
Beautifully engraved certificate from the Melones Mining Company issued in 1899. This historic document was printed by New York Bank Note Company and has an ornate border around it with a vignette of men working underground in a mine. This item is hand signed by the Company's President ( W. E. Eustis ) and Treasurer ( J. C. Whitney )and is over 105 years old.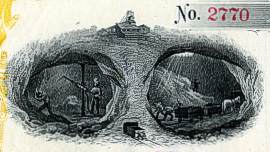 Certificate Vignette
The property had 16 claims, 152 acres on Carson Hill.
Melones was originally known as Robinsons Ferry; however, named after John W. Robinson who, with his partner Stephen Meade, established a ferry in the autumn of 1848. The operation proved to be quite a gold mine. During 1849, when the rush to the mines was at its peak, the ferry collected $10,000 in a six-week period. A touring circus once found it necessary to cross here in order to perform at nearby Columbia. The owners of the ferry refused to carry old Lucy, the show's one elephant, who was forced to swim across the swift current. Sadly, Lucy was carried away and drowned, whereupon the circus disbanded and commenced to mining.
Robinsons Ferry was renamed "Melones" by the Melones Mining Company, around 1902.
Scripophily.com and Old Company Research Press Releases

BBC Radio Interview on 12/02/2014 with Bob Kerstein discussing
reputiated German, Russian, Chinese and Confederate Debt
See Stock Certificate Expert Bob Kerstein, CEO Scripophily.com
discuss Stock Certificates in Bloomberg , the Associated Press ,
CNBC with Jane Wells discussing the Facebook IPO,
Inside Edition and the Today Show
Subscribe to our New Free RSS New Products Feed in a Reader
Subscribe to Our New Product Additions Feed by Email
We will always maintain our founding commitment to customer satisfaction and the delivery of an educational product with an enjoyable shopping experience. Please let us know how we may be of service to you.

Note: All Old Stock and Bond Certificates are actual authentic certificates and are sold only as collectibles. We do not sell reproductions and offer a lifetime guarantee to the authenticity of everything we sell.


All Rights Reserved. © 1996 - 2016

American Institute of
Certified Public Accountants


Virginia Society CPA's
Bob Kerstein, Member






American Numismatic Association

Securities and Exchange
Commission Historical Society

Society of Paper Money Collectors
Member

Better Business
Bureau Member
Rated A+