Click Here for information about our 2011 Historic Stock Calendar - New
Based on the many requests we have received from our customers, we are now offering a Wall Street Scripophily Calendar with each month featuring a unique certificate in full color. This is a perfect gift for customers, employees, friends, collectors, students and everyone else. The actual size of the calendar is 8 1/2" x 11" ( perfect size for mailing ) with 28 color print pages including the cover.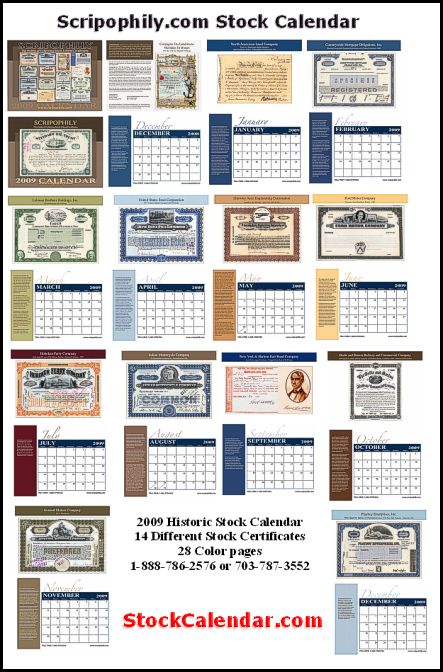 28 Color Pages
Click Here to See Entire Calendar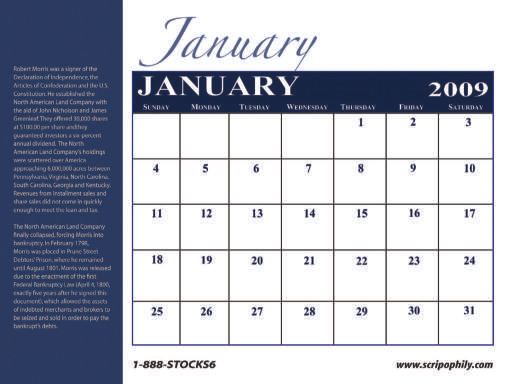 Example page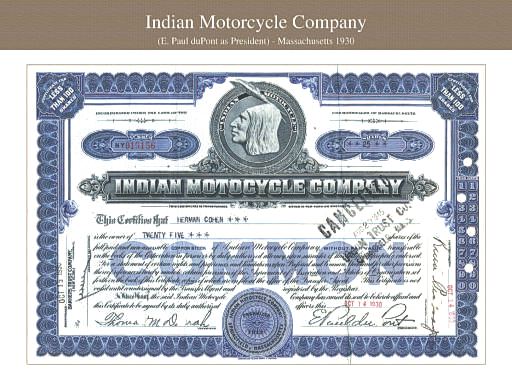 Example page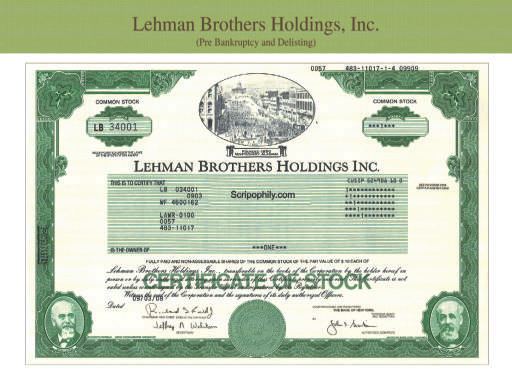 Example page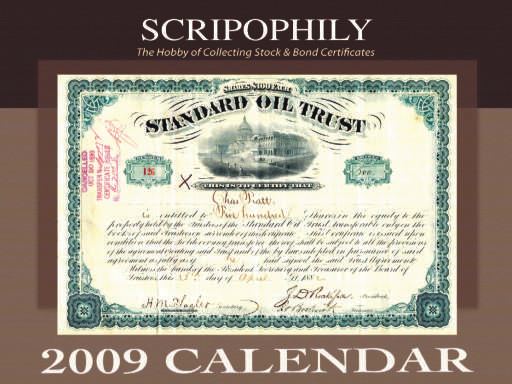 Back Cover
Each month has a color certificate on the top page, with the monthly calendar down below. This wonderful collection of certificates include the North American Land Company (First U. S. Real Estate Bubble Disaster) signed by Robert Morris - Philadelphia, Pennsylvania 1795, Countrywide Mortgage Obligations, Inc. (Became Countrywide Financial Corp bailed out by Bank of America) 1986, Compagnie Des Installations Maritimes De Bruges 1904 , Lehman Brothers Holdings, Inc. (Issued Pre Bankruptcy and Delisting), United States Steel Corporation 1901 issued to Andrew Carnegie $100,000 Bond, Sikorsky Aero Engineering Corporation signed by Igor Sikorsky - New York, 1923, Ford Motor Company Prototype Stock Certificate Design 1951, Hoboken Ferry Company hand signed by one of the Lehman Brothers (Emanuel Lehman) 1897, Indian Motorcycle Company (E. Paul duPont as President) - Massachusetts 1930, New York and Harlem Rail-Road Company signed by Jacob Little signed Certificate - Original Great Bear of Wall Street, Bodie and Benton Railway and Commercial Company 1886 signed by Henry Marvin Yerington as President , General Motors Company 1917 - New Jersey, Playboy Enterprises, Inc. with Hugh M. Hefner as Chairman (Famous Willy Rey Nude Vignette) - Delaware 1982, Standard Oil Trust Signed by John D. Rockefeller For large quantities, please call us at 1.888.STOCKS6 toll free.