Beautifully engraved certificate from the Aireon Manufacturing Corporation issued in 1946. This historic document was printed by the Jeffries Banknote Company and has an ornate border around it with a vignette of an allegorical man with a plane and company logo. This item has the printed signatures of the Company's President and Secretary and is over 76 years old.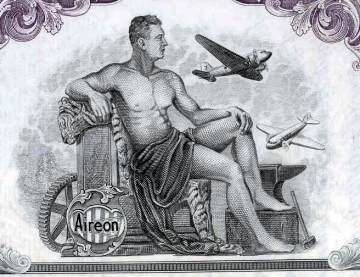 Certificate Vignette
Aireon Manufacturing Corporation made electronic parts for airplanes during WWII. At the end of the war, the company decided to get into the jukebox business. The first jukebox series from the Aireon Manufacturing Corporation was designed and patented by Ernest F. Thomson in 1946. The box was officially named Aireon Super De Luxe nicknamed Airliner because of the size. The following Aireon Fiesta series was also design patented by Ernest F. Thomson, and the matching speakers were designed by Jay B. Doblin. A following model of 1948 was officially named the Aireon Coronet. Unfortunately in 1948, the company began to sing the blues and went out of business.