Beautifully engraved certificate from the American Telegraph-Typewriter Company issued in 1915. This historic document was printed by the International Banknote Company and has an ornate border around it with a vignette of an allegorical man playing with electricity between telegraph wires and typewriters. This item has been hand signed by the Company's President, and Secretary, and is over 106 years old.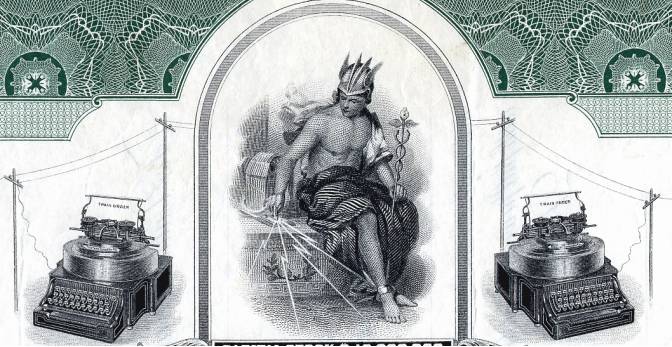 Certificate Vignette
In 1907, G.A. Cardwell founded the American Telegraph Typewriter Company with offices at 27 William Street, New York City, and a factory on Prospect Street, Brooklyn, New York. From 1908 to 1944 Cardwell developed and manufactured variable air capacitors, telegraph sets, and designed, manufactured, and installed the first automatic stock quotation system at the New York Stock Exchange. During World War II, Cardwell developed the famous test sets: AN/TS173, 174, 175, and BC221. In 1944, A.D. Cardwell sold interest out to Grenby Manufacturing Company, of Plainville, Connecticut, a manufacturer of machine tools and the Grenby cylindrical grinder. Grenby was owned by Carl Gray and Ralph Soby, whose fathers invented and founded the Gray Telephone Pay Station in 1885.