Beautifully engraved RARE specimen certificate from the B.F. Goodrich Iran, S.A. dated in 1959. This historic document was printed by American Bank Note Company and has an ornate border around it with a vignette of the company logo. This certificate is written in English and Arabic. This is the first time we have had this for sale.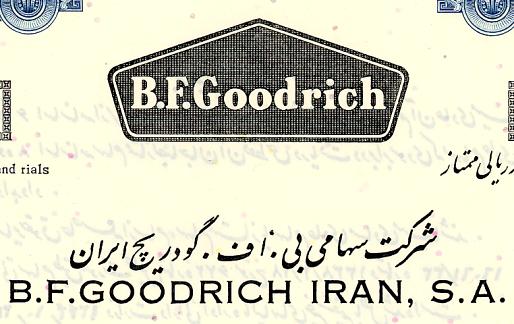 Certificate Vignette
Kian Tire was the first tire and tube manufacturing plant in Iran was established under the name of B.F.Goodrich Iran During the 1960's through the early 1970's, Iran was regarded as one of the most open Middle Eastern countries with respect to foreign investment. Investment was sought via a bevy of tax incentives, import protections and guaranteed remitability of profits and investment capital. During this period foreign investors were allowed to hold majority stakes in their ventures and even when minority stakes were held, ownership influence was often boosted by management contracts that provided foreign partners decision making powers. This state of affairs continued until 1975, with the issuance of legislation that not only declared that all major industrial companies sell 49% of their shares to their workers, farmers or the general public, but that also foreign ownership of Iranian industry be limited, with a maximum 35% equity stake in high technology industries, 25% in general manufacturing and 10% in traditional industrial sectors such as textiles. Following the overthrow of the Shah with the victory of the Islamic Revolution Terror Regime and the subsequent war with Iraq, foreign investment became almost non-existent.
---
About Specimens
Specimen Certificates are actual certificates that have never been issued. They were usually kept by the printers in their permanent archives as their only example of a particular certificate. Sometimes you will see a hand stamp on the certificate that says "Do not remove from file". Specimens were also used to show prospective clients different types of certificate designs that were available. Specimen certificates are usually much scarcer than issued certificates. In fact, many times they are the only way to get a certificate for a particular company because the issued certificates were redeemed and destroyed. In a few instances, Specimen certificates we made for a company but were never used because a different design was chosen by the company. These certificates are normally stamped "Specimen" or they have small holes spelling the word specimen. Most of the time they don't have a serial number, or they have a serial number of 00000. This is an exciting sector of the hobby that grown in popularity and realized nice appreciation in value over the past several years.