Beautiful specimen certificate from the Bell Telephone Company of Pennsylvania dated 1925. This historic document was printed by the American Bank Note Company and has an ornate border around it with a vignette of Alexander Graham Bell, a woman operator and a technician working with telephone lines. This items is over 88 years old.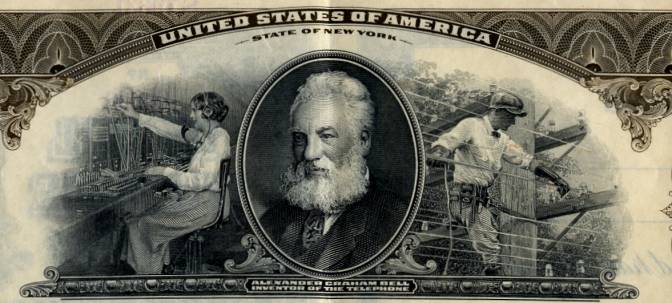 Certificate Vignette
From its incorporation in September 1879, Bell Telephone Company of Philadelphia was a wholly owned subsidiary of the National Bell Telephone Company, which became the American Bell Telephone Company in 1880. In 1899 it became a unit within the Bell System owned and controlled by American Telephone & Telegraph (AT&T). In 1907 the name of the company was changed to Bell Telephone Company of Pennsylvania. Beginning in 1918, Bell Telephone began making a series of acquisitions that made the company more of a statewide operation. During this period, telephone service was provided by small independent companies covering markets no larger than a town or county. The acquisitions by Bell over the next few decades eventually gave Bell a monopoly over telephone service in Pennsylvania that it enjoyed for years. In September 1918, the company purchased the property of the Central District Telephone Company. In 1924 it acquired the property of Pittsburgh & Allegheny Telephone Company. In 1925 Lehigh Telephone sold all of its properties in Wayne, Lackawanna, Luzerne, Berks, Bucks, Montgomery, and Schuykill Counties for $1,837,507. In November 1925, Bell purchased the Tri-State Telephone Company, and in December of that year it added Pennsylvania State Telephone Company including 10,404 stations. In 1926 Bell acquired property from the Strousburg & Bushkill Telephone Company and Meadville Telephone Company. It continued to expand and consolidate telephone services in Pennsylvania in 1927 by purchasing assets from Home Telephone Company, Blairsville Telephone Company, Summerville Telephone Company, Brookville Telephone Company, and Huntington & Clearfield Telephone Company. In April 1930, Bell merged with Lehigh Telephone. During 1930 it also exchanged assets with Cumberland Valley Telephone Company in Dauphin, Mifflin, and Cumberland Counties. In 1932 Bell acquired properties of Clinton Telephone, which operated in portions of Lycoming and Clinton Counties. The Interstate Commerce Commission gave Bell permission to buy and operate the property of Forest Telephone & Telegraph Company in 1933. In 1944 Bell acquired more properties from Keystone Telephone Company of Philadelphia at a cost of $13.4 million. Between 1942 and 1948 sales increased by more than 50 percent from $61.2 million to $94.2 million. History from Lehman Brothers Collection and
OldCompany.com
(old stock certificate research service)
---
About Specimen Certificates
Specimen Certificates are actual certificates that have never been issued. They were usually kept by the printers in their permanent archives as their only example of a particular certificate. Sometimes you will see a hand stamp on the certificate that says "Do not remove from file". Specimens were also used to show prospective clients different types of certificate designs that were available. Specimen certificates are usually much scarcer than issued certificates. In fact, many times they are the only way to get a certificate for a particular company because the issued certificates were redeemed and destroyed. In a few instances, Specimen certificates were made for a company but were never used because a different design was chosen by the company. These certificates are normally stamped "Specimen" or they have small holes spelling the word specimen. Most of the time they don't have a serial number, or they have a serial number of 00000. This is an exciting sector of the hobby that has grown in popularity over the past several years.