Beautifully engraved specimen certificate from the Champion Spark Plug Company printed in 1970. This historic document was printed by the American Banknote Company and has an ornate border around it with a vignette of an allegorical woman next to the company's logo. This item has the printed signatures of the Company's officers (Robert A. Stranahan Jr. as President).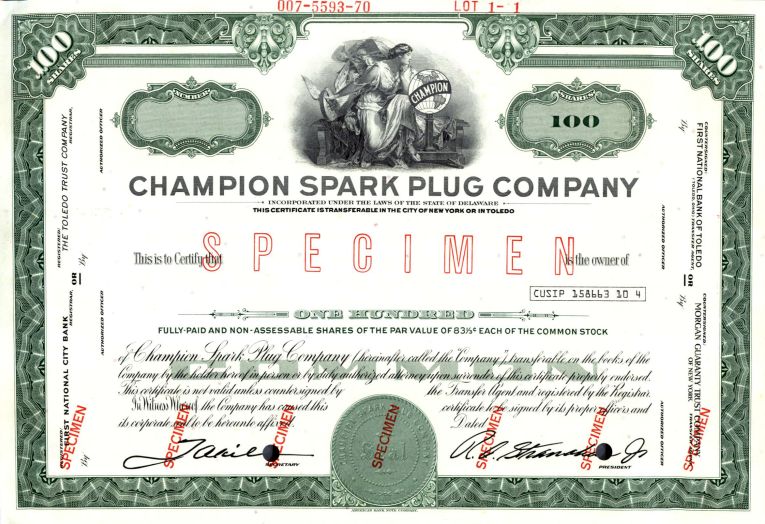 Certificate
Champion is an American brand of spark plug. Originally Champion was a Fortune 500 Company founded by Robert A. Stranahan and Frank D. Stranahan in 1908 in Boston and then moved to Toledo, Ohio in 1910 to be close to the Willys-Overland Auto Company. In 1989, Champion was purchased by Cooper Industries and is now a wholly owned brand of Federal-Mogul Corporation. Its main products are a line of spark plugs for a wide range of cars, trucks, SUVs, racing and marine applications. Also included in the brand are spark plug wires and other ignition system specific wiring. Champion is also a longtime sponsor of various racing events, cars, and series including two series run under sanctioning by IMSA. History from Wikipedia, Encyberpedia and
OldCompany.com
(old stock certificate research service)
About Specimen Certificates
Specimen Certificates are actual certificates that have never been issued. They were usually kept by the printers in their permanent archives as their only example of a particular certificate. Sometimes you will see a hand stamp on the certificate that says "Do not remove from file". Specimens were also used to show prospective clients different types of certificate designs that were available. Specimen certificates are usually much scarcer than issued certificates. In fact, many times they are the only way to get a certificate for a particular company because the issued certificates were redeemed and destroyed. In a few instances, Specimen certificates were made for a company but were never used because a different design was chosen by the company. These certificates are normally stamped "Specimen" or they have small holes spelling the word specimen. Most of the time they don't have a serial number, or they have a serial number of 00000.