Beautifully engraved certificate from Cheesecake Factory, Inc. . This historic document was printed by the American Banknote Company and has an ornate border around it with a vignette of the company's name. This item has the printed signatures of the Company's Chairman, David M. Overton and and CFO, Michael J. Dixon.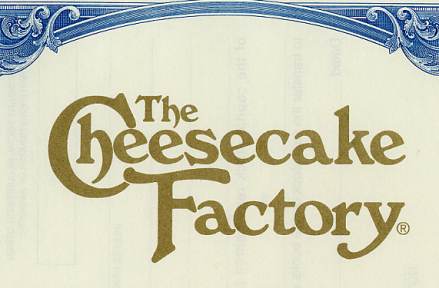 Certificate Vignette
The Cheesecake Factory, Inc. (NASDAQ: CAKE) is a restaurant company in the United States. The company currently operates 146 dining restaurants under The Cheesecake Factory name in 34 states and the District of Colombia. The company also operates 13 restaurants under the Grand Lux Cafe name and one under the RockSugar Pan Asian Kitchen name. The restaurants are characterized by extensive menus, custom décor, and large portions. David M. Overton, the company's founder, opened the first Cheesecake Factory restaurant in Beverly Hills, California, in 1978. The restaurant established the future chain's pattern of offering an eclectic menu, big portions, and signature cheesecakes. The company used to operate one self-service, limited-menu express foodservice operation under The Cheesecake Factory Express marque inside the DisneyQuest family entertainment center in Orlando, Florida. Its cheesecakes and other baked goods can also be found in the cafes of many Barnes and Noble book stores. In addition, it operates a bakery production facility in Calabasas, California, which produces baked desserts and other products for its restaurants and other foodservice operators, retailers, and distributors. A second bakery was opened in Rocky Mount, North Carolina in March 2006. The Rocky Mount plant handles the distribution for the eastern half of the United States. According to the company's website, the Cheesecake Factory had its beginnings with Oscar and Evelyn Overton, who dreamed of opening their own business, and more specifically with Evelyn, a skilled cook with a cheesecake recipe much liked by her friends. Evelyn first decided to open a business after making a cheesecake for her husband's employer in 1949. Evelyn opened a small cheesecake shop in Detroit, Michigan in the late 1940s, but later gave it up in order to raise her two children, David and Renee. She continued to supply cakes to several of the best local restaurants, however, through a kitchen in her basement. By 1971, their children were now grown, and Oscar and Evelyn moved the business to Los Angeles, using the last of their savings to open a 700-square-foot (65 m2) store that bore the name "The Cheesecake Factory." Evelyn would bake and manage the office while Oscar worked and sales and building new accounts. The early years of their new company were sometimes difficult, but as the company's reputation and sales grew, company adjusted accordingly. The Overtons realized they needed a larger bakery, which they opened in 1975, at which point their business expanded dramatically, with Evelyn creating over 20 varieties of cheesecake and other desserts for hundreds of accounts from Santa Barbara to San Diego, and even out of state. In 1978, David founded The Cheesecake Factory restaurant in Beverly Hills, which made Evelyn's cheesecakes even more famous. The chain would become a multi-million-dollar sales performer. The company went public in 1992, and was the first restaurant chain to reach a billion dollars in revenues with fewer than 100 restaurants in operation. History from Wikipedia and OldCompany.com (old stock certificate research service).