Beautiful certificate from the Clary Corporation issued in 1978. This historic document was printed by Security-Columbian Banknote Company and has an ornate border around it with a vignette of the company logo. This item has the printed signatures of the Company's President and Secretary and is over 29 years old.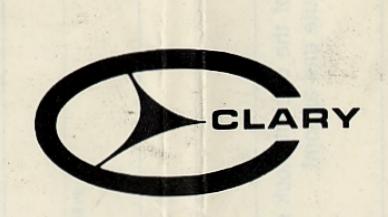 Certificate Vignette
Clary Corporation, a 68 year old company began as a high-tech manufacturing company building aircraft parts for the World War II war effort. As the war wound down, Clary began manufacturing gyroscopic device for US military missile programs, portable computer devices and mechanical adding machines. In the late 80s Clary designed the first all solid state Uninterruptible Power Systems (UPS) for the power industry. These new systems incorporated the latest solid-state devices to be used in the first analog solid state UPS systems for commercial marketplaces.. Clary later refined its' analog solid state technology and added an all digital technology to define the rugged devices it manufactures today. Clary UPS systems are designed to go where others fail and are known world wide for their extreme temperature capability and rugged reliable design. History from company press information.