Beautifully engraved Specimen certificate from the Collateralized Mortgage Securities Corporation printed in 1988. This historic document was printed by the American Banknote Company and with the company's name on top. This item has the printed signatures of the Company's President and Secretary.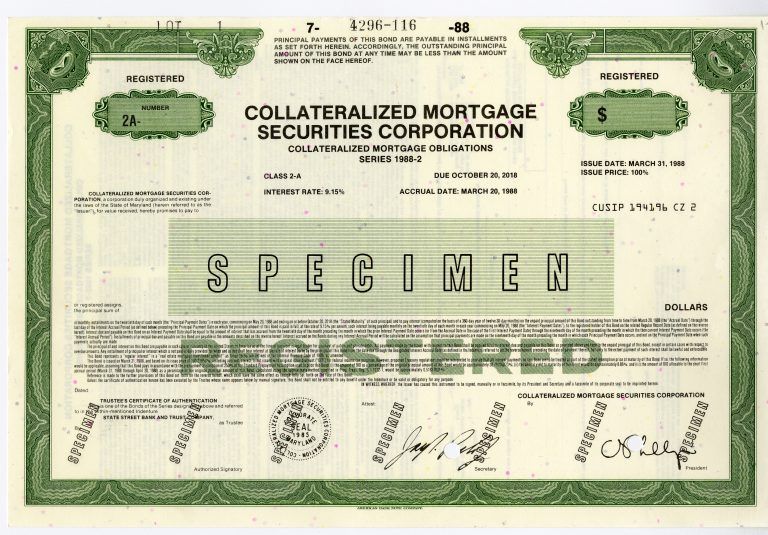 Certificate Vignette
Collateralized Mortgage Securities Corporation. The Company was organized on January 29, 1985 as a Maryland corporation. The Company was organized to issue and sell Collateralized Mortgage Obligations backed by mortgage-backed certificates issued and guaranteed as to principal and interest by the Government National Mortgage Association, the Federal National Mortgage Association, the Federal Home Loan Mortgage Corporation and/or mortgage loans and participations therein.
Collateralized Mortgage Securities Corporation was a wholly owned subsidiary of Credit Suisse First Boston Management Corporation, which was a wholly owned subsidiary of Credit Suisse First Boston, Inc., a privately owned holding company. Credit Suisse First Boston (informally CSFB) was the investment banking division of Credit Suisse Group, prior to 2006. It was active in investment banking, capital markets and financial services. In 2006, as part of a major rebranding exercise to communicate as an integrated organization - 'Credit retired the 'First Boston' name and amalgamated the CSFB operations to a reorganized investment banking division of Credit Suisse. A collateralized mortgage obligation (CMO) is a type of debt security first created in 1983 by the investment banks Salomon Brothers and First Boston for U.S. mortgage lender Freddie Mac. (The Salomon Brothers team was led by Gordon Taylor. The First Boston team was led by Dexter Senft.) Legally, a CMO is a debt security issued by an abstraction - a special purpose entity - and is not a debt owed by the institution creating and operating the entity. The entity is the legal owner of a set of mortgages, called a pool. Investors in a CMO buy bonds issued by the entity, and they receive payments from the income generated by the mortgages according to a defined set of rules. With regard to terminology, the mortgages themselves are termed collateral, 'classes' refers to groups of mortgages issued to borrowers of roughly similar credit worthiness, tranches are specified fractions or slices, metaphorically speaking, of a pool of mortgages and the income they produce that are combined into an individual security, while the structure is the set of rules that dictates how the income received from the collateral will be distributed.
The legal entity, collateral, and structure are collectively referred to as the deal. Investors in CMOs include banks, hedge funds, insurance companies, pension funds, mutual funds, government agencies, and most recently central banks. This article focuses primarily on CMO bonds as traded in the United States of America. The term "collateralized mortgage obligation" technically refers to a security issued by specific type of legal entity dealing in residential mortgages, but investors also frequently refer to deals put together using other types of entities such as REMICs as CMOs. History from Wikipedia and OldCompany.com (old stock certificate research service)
About Specimen Certificates Specimen Certificates are actual certificates that have never been issued. They were usually kept by the printers in their permanent archives as their only example of a particular certificate. Sometimes you will see a hand stamp on the certificate that says "Do not remove from file". Specimens were also used to show prospective clients different types of certificate designs that were available. Specimen certificates are usually much scarcer than issued certificates. In fact, many times they are the only way to get a certificate for a particular company because the issued certificates were redeemed and destroyed. In a few instances, Specimen certificates were made for a company but were never used because a different design was chosen by the company. These certificates are normally stamped "Specimen" or they have small holes spelling the word specimen. Most of the time they don't have a serial number, or they have a serial number of 00000. This is an exciting sector of the hobby that has grown in popularity over the past several years.