Beautiful engraved specimen certificate from the Columbia Pictures Industries, Inc printed in 1967. This historic document was printed by American Bank Note Company and has an ornate border around it with a vignette of the Columbia Pictures' logo. This item has the printed signatures of the Company's President and Secretary.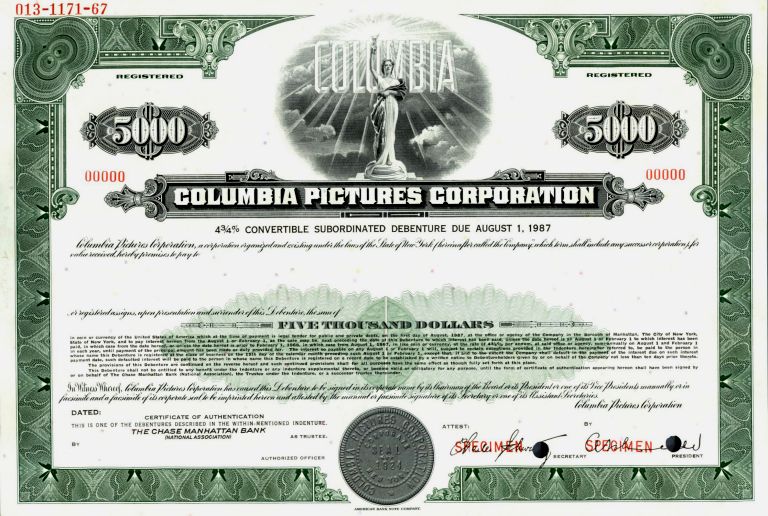 Certificate Vignette
Columbia Pictures Industries, Inc. is one of the leading film studios in the world, a member of the so-called Big Six. It was one of the so-called Little Three among the eight major film studios of Hollywood's Golden Age. The studio, originally founded in 1918 as "Cohn-Brandt-Cohn Film Sales" by brothers Jack and Harry Cohn and Jack's best friend Joe Brandt, released its first feature film in August 1922. It adopted the Columbia Pictures name in 1924 and went public two years later. The name is derived from "Columbia", a national personification of the United States, which is used as the studio's logo. In its early years a minor player in Hollywood, Columbia began to grow in the late 1920s, spurred by a successful association with director Frank Capra. It's the world's fifth largest major film studio. With Capra and others, Columbia became one of the primary homes of the screwball comedy. In the 1930s, Columbia's major contract stars were Jean Arthur and Cary Grant (who was shared with RKO Pictures). In the 1940s, Rita Hayworth became the studio's premier star and propelled their fortunes into the late 1950s. Rosalind Russell, Glenn Ford, and William Holden also became major stars at the studio. In 1982, the studio was purchased by Coca-Cola; that same year it launched TriStar Pictures as a joint venture with HBO and CBS. Five years later, Coca-Cola spun off Columbia, which was sold to Tri-Star as the latter became Columbia Pictures Entertainment. History from Wikipedia, Encyberpedia and
OldCompany.com
(old stock certificate research service)
---
About Specimens
Specimen Certificates are actual certificates that have never been issued. They were usually kept by the printers in their permanent archives as their only example of a particular certificate. Sometimes you will see a hand stamp on the certificate that says "Do not remove from file". Specimens were also used to show prospective clients different types of certificate designs that were available. Specimen certificates are usually much scarcer than issued certificates. In fact, many times they are the only way to get a certificate for a particular company because the issued certificates were redeemed and destroyed. In a few instances, Specimen certificates we made for a company but were never used because a different design was chosen by the company. These certificates are normally stamped "Specimen" or they have small holes spelling the word specimen. Most of the time they don't have a serial number, or they have a serial number of 00000. This is an exciting sector of the hobby that grown in popularity over the past several years.