Beautifully engraved specimen certificate from the Commonwealth Edison Company printed in 1982. This historic document was printed by the American Banknote Company and has an ornate border around it with a vignette of on of the company's generation plants. This item has the printed signatures of the Company's President and Secretary.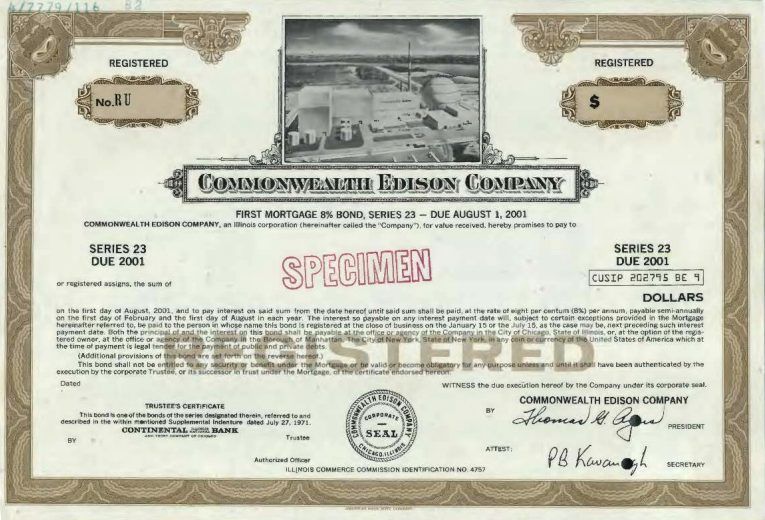 Certificate
The Commonwealth Edison Company became UniCom Company in 1994. PECO bought Chicago-based Unicom and became Exelon in 2000. The new company distributes electricity to 5 million customers: 3.5 million in Northern Illinois, through ComEd, and 1.5 million in the five-county Philadelphia region, through PECO Energy. In addition, Exelon distributes natural gas to 425,000 customers in Pennsylvania. Both PECO and Unicom were leading nuclear plant operators, and more than 70% of Exelon's 19,000-MW generating capacity comes from nuclear plants. Other generation interests include AmerGen Energy, a joint venture with British Energy, and Sithe Energies (49.9%); the firm also markets wholesale and retail power. History from Wikipedia and
OldCompany.com
(old stock certificate research service)
About Specimen Certificates
Specimen Certificates are actual certificates that have never been issued. They were usually kept by the printers in their permanent archives as their only example of a particular certificate. Sometimes you will see a hand stamp on the certificate that says "Do not remove from file". Specimens were also used to show prospective clients different types of certificate designs that were available. Specimen certificates are usually much scarcer than issued certificates. In fact, many times they are the only way to get a certificate for a particular company because the issued certificates were redeemed and destroyed. In a few instances, Specimen certificates were made for a company but were never used because a different design was chosen by the company. These certificates are normally stamped "Specimen" or they have small holes spelling the word specimen. Most of the time they don't have a serial number, or they have a serial number of 00000.