Beautiful certificate from the Cracker Jack Company issued in 1922. This historic document was printed by the Goes Company and has an ornate border around it with the company header. This item has the original signatures of the Company's President, Frederick William Rueckheim and Secretary, and is over 95 years old.
Certificate Vignette
Signature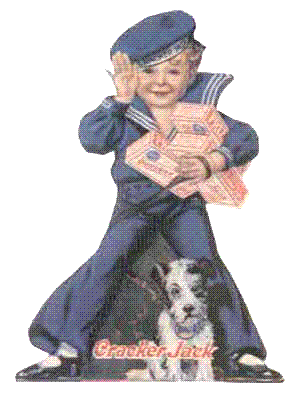 Frederick William Rueckheim started the business around 1871. He brought his brother, Louis, in as a partner and started the firm of F. W. Rueckheim & Bro.
In 1896, the first lot of Cracker Jack was produced. It was named by an enthusiastic sampler who remarked, "That's a Cracker Jack!"
H.G. Eckstein developed the "waxed sealed package" for freshness in 1899.
In 1902, the company was re-organized; Rueckheim Bros. & Eckstein.
Prizes were inserted in every box in 1912.
In 1914, a plant was opened in Brooklyn, NY.
Sailor Jack and his dog, Bingo, were added to boxes in 1918.
In 1922, the company was named The Cracker Jack Co.
In 1943 and 1944, the company was honored for its war effort.
Borden purchased the company in 1964.
Frito-Lay is now the owner of Cracker Jack.
History from Wikipedia and
OldCompany.com
(old stock certificate research service)