Beautifull RARE certificate from the Del Rey Improvement Company issued in 1905. This historic document was printed by the Out West Co. Print, L.A. and has an ornate border around it with a vignette of woman in a helmet and shield, standing by the American flag and bald eagle. This item has the signatures of the Company's President, George B. Ellis and Secretary,F. W. Flint, Jr. and is over 106 years old. Issued to and endorsed on the back by James V. Baldwin.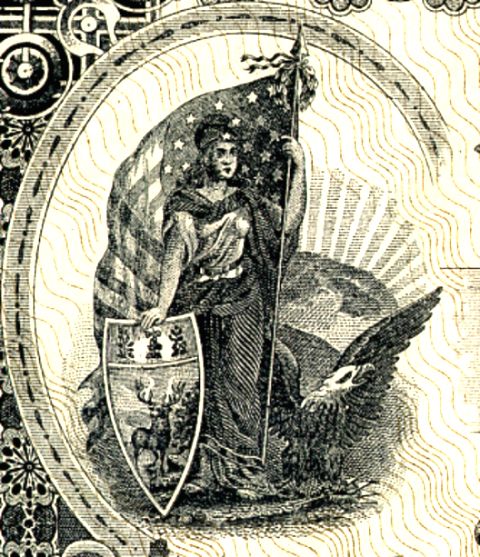 Certificate Vignette
In June 1904 a post office was established at Playa del Rey, with Frank Lawton, lessee of the Pavilion as postmaster. The Los Angeles-Pacific Railway Lagoon Line to Santa Monica was completed, thus giving a much improved car service, as the fare to Santa Monica was made five cents. An article describing the above improvements also discussed Garbutt's and his neighbors' new "cottages" as follows, "The extensive public improvements are zealously guarded by judicious building restrictions-- only a desirable class of residences is permitted. Among the beautiful residences recently erected are the following: Frank A. Garbutt, Oliver Morosco, W. W. Burton, A. W. Eager and George W. Signor. (Eager would go on to design numerous homes in Playa del Rey as the community further developed.) Homes will be built immediately for
George B. Ellis
, H. D. Lombard, N. W. Church,
James V. Baldwin
,
F. W. Flint, Jr.
,and Frank Hudson. All houses are built on uniform line, affording an unobstructed view of both lagoon and ocean. Extensive 12-foot board walks have been laid, a 20-foot surfaced speedway (see discussion below) has been built, a sewer system has been provided, also water, gas and electric lights aligning the lagoon are attractive features in the evening- and promenading in one of the delightful recreations at this time." (For more see "Playa del Rey, The Aquatic City," Los Angeles Herald, May 21, 1905, p. 1).
---
George B. Ellis was also the President of the Automobile Club of Southern California (Los Angeles)
---
James V. Baldwin, 536-8 H. W. Hellman Bldg., Los Angeles. California Savings Bank, Los Angeles. Glenwood Land Co., Los Angeles. Western Ave. Land Co., Los Angeles. Wilshire Boulevard Land Co., Los Angeles. Wilshire Land Co., Los Angeles.
---
Notables of the Southwest - 1912 JAMES V. BALDWIN His best-known tracts are those in the West Adams and Wilshire Boulevard sections, and comprise the highest class of subdivisions, such as West Adams Heights, Westmoreland Heights, Wellington Place, Westminster Place, Larchmont Heights, Wilshire Hills, Wilshire Heights and many other similar properties in recently opened resi- dence sections. Mr. Baldwin was the first real estate operator to buy up acreage and start the improvement of subdivisions in the now exclusive Wilshire district, and he has been the largest realty operator in that portion of the city. His far-sightedness and belief in the city's future have caused him to reach out far beyond the generally supposed limits to which the city would expand for many years, and in almost every instance the growth has almost immediately caught up to him, confirming his judgment. It was this advanced judgment that has made him one of the foremost realty operators in Los Angeles. His prudence in choosing the' choicest districts for residence purposes has been a feature that has stood out in Mr. Baldwin's career. Mr. Baldwin is always found among the foremost men of Los Angeles, in his walk of life, in everything that pertains to the development, growth and welfare of a Greater Los Angeles. He watches with keenest interest the development of the Los Angeles Harbor, the Owens River project and other similar movements that have a local or national bearing on the welfare of Los Angeles. He has been identified with and is one of the leading spirits in the growth of the Los Angeles Realty Board. Mr. Baldwin is interested in a number of indus- trial and manufacturing projects and is a director in the California Savings Bank of Los Angeles. He is prominently associated with movements in Los Angeles in almost every branch of the business and financial world and by reason of his untiring work in any matter which he undertakes is re- garded as among the leaders in all the propositions intended to advance and upbuild the business or commercial interests of his adopted city. A man of genial personality, he is a conspicuous figure in the social life of Los Angeles and is one of the leading clubmen. He is a member of the California Club, of the Los Angeles Country Club and of the Jonathan Club of Los Angeles, and resides at the California Club. Stock research by
OldCompany.com
(old stock certificate research service).