Beautiful certificate from the Halifax Copper Mining Company issued in 1863. This historic document was printed by W.H. Forbes Litho Company and has an ornate border around it with a vignette of an eagle and men working underground. This item has the signatures of the Company's President and Treasurer, Carlos Piece and is over 145 years old.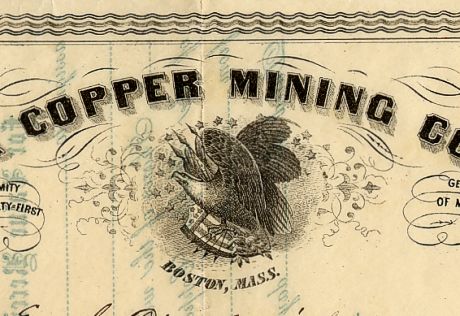 Certificate Vignette

Certificate Vignette
According to the Geological Survey of Canada By Geological Survey of Canada Published by Geological Survey of Canada, 1863 The Halifax Copper Mining Company has lately been established to work a quartz vein, which is described as being from eight inches to three feet wide, and as containing promising quantities of vitreous ore, with copper pyrites, and portions of green carbonate and red oxyd of copper ; the latter two occurring at the surface of the vein. This synclinal, with its copper-bearing strata, is traced from Halifax, through contiguous parts of Ireland and of Inverness, into Leeds. On the fourth lot of the eleventh range of Ireland, variegated ore is found ; and on the ninth lot of the ninth range, copper pyrites occurs in dolomite. It is also met with in similar conditions on the second lot of the fourth range of Inverness. On the fourth lot of the second range, variegated copper ore occurs in a quartz vein two feet wide in nacreous slates.