Beautifully engraved uncancelled stock certificate from the Hartford National Corporation issued in 1988. This historic document was printed by the American Banknote Company and has an ornate border on the left with a vignette of an allegorical woman sitting on a marble bench with a large globe under one arm and the city and farm landscapes behind her. This item has the printed signatures of the Company's President and Chief Executive Officer, Joel B. Alvord, and Secretary, and is over 23 years old. Folded from original mailing.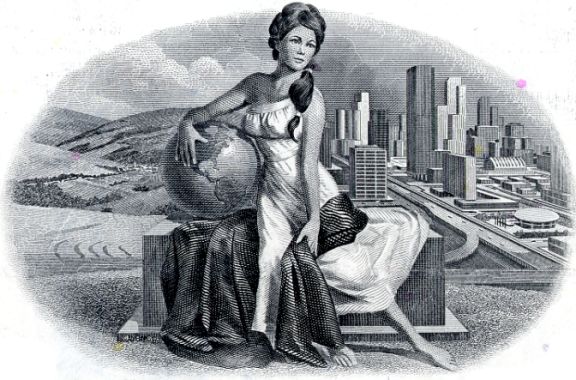 Certificate Vignette
Hartford National Corporation(1792-1988) In 1969, the Hartford National Bank and Trust Company became the first completely owned subsidiary bank of the newly established Hartford National Corporation (HNC). After this merger, the HNC could boast assets totaling over $1.1 billion. Soon, the HNC expressed interest in purchasing the Connecticut National Bank (CNB), a merger that would almost double the number of banks under its management and increase its assets from $2.8 billion to over $4 billion. In December 1981, shareholders from each bank voted in favor of the merger and in 1982 the merger took place. Now among the largest banking interests in southern New England, the HNC began looking for markets north of Connecticut. Changing interstate regulation laws allowed for a merger with Shawmut National Corporation, a Boston-based "Super-Regional" banking conglomerate, in 1988. Now amongst the largest twenty five banking concerns in the nation, the Shawmut National Corporation enjoyed assets totaling over $26 billion. Hartford, CT remained one of the two dual headquarters for the corporation until its eventual merger with Fleet Bank (now Bank of America) in 1995.