Beautifully engraved certificate from the Heska issued in 2002. This historic document was printed by the Northern Banknote Company and has an ornate border around it with an underprint of a cat and dog. This item has the printed signatures of the Company's President, and Chief Financial Officer, and is over 15 years old.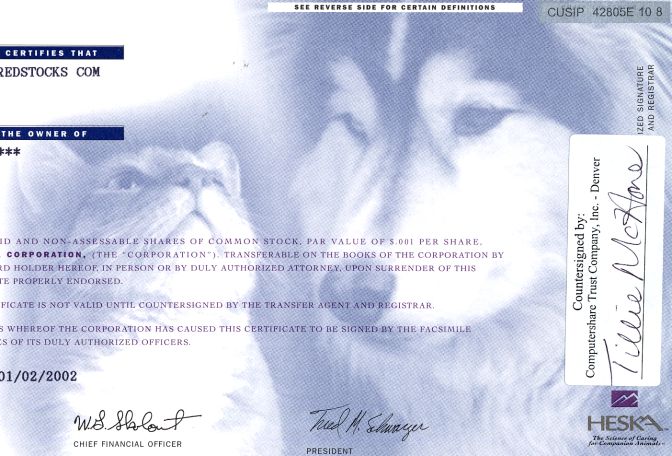 Certificate Vignette
Heska is dedicated to perfecting and supporting the core technology and services that truly impact the quality of pet care and help to ensure positive outcomes for veterinarians and their patients. Heska was created by veterinary professionals for veterinary professionals. Our pledge to customers is to stand behind sound science, following best medical practices even when it's easier to follow the crowd. After all, once you get through all the claims and the fine print, what's really important is the accuracy of a diagnosis and the efficacy of a treatment. Heska makes diagnostic products, vaccines, and pharmaceuticals for domestic animals, primarily cats and dogs. Products on the market and in development include diagnostics and treatments for allergies, arthritis, cancer, fleas, heartworms, skin problems, thyroid problems, and viral infections. The company also operates a diagnostic lab and makes veterinary diagnostic and monitoring devices. Heska also manufactures vaccines for cattle, small mammals, and fish. Its products are sold worldwide through direct representatives and independent distributors. The State of Wisconsin Investment Board has about a 17% stake in the company. Stock research by
OldCompany.com
(old stock certificate research service).