Beautifully engraved SPECIMEN certificate from the Jack-In-The-Box, Inc. This historic document was printed by the American Banknote Company in 1965 and has an ornate border around it with a vignette of the company's logo. This item has the printed signatures of the Company's President and Treasurer. This is the first time we have seen this for sale.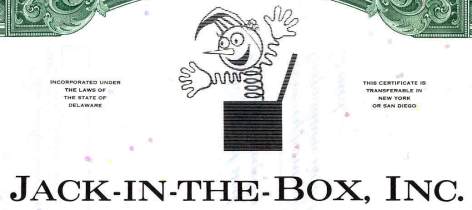 Certificate Vignette
1951, is among the nation's leading fast-food hamburger chains. Headquartered in San Diego, the company operates or franchises more than 1,800 quick-serve Jack in the Box® restaurants in 16 states and serves more than a half-billion guests a year. As the first major hamburger chain to develop and expand the concept of drive-thru restaurants, Jack in the Box has always emphasized drive-thru service, which currently accounts for approximately two-thirds of total sales at company-operated restaurants. In addition to drive-thru windows, most restaurants have indoor dining areas and are open 18-24 hours a day. Jack in the Box pioneered a number of firsts in the quick-serve industry. Not only did the company become the first major fast-food chain that started as a drive-thru, but it was also the first to introduce menu items that are now staples on most fast-food menu boards. Today, Jack in the Box offers more permanent menu items than most other chains and a broader selection of distinctive, innovative products targeted at the adult fast-food consumer, including hamburgers, specialty sandwiches, Mexican foods, finger foods, other side items and real ice cream shakes. Hamburgers represent the core of the menu, including the signature Jumbo Jack®, Sourdough Jack® and Ultimate Cheeseburger. Jack in the Box also offers products unique to the hamburger segment, such as the Teriyaki Chicken Bowl and Chicken Fajita Pita. And, because value is important to fast-food customers, the company also offers value-priced products, known as "Jack's Value Menu," such as the Jumbo Jack®, two tacos, Jack's Western Cheeseburger, or the Big Cheeseburger for as low as 99 cents. The company changed its name to Foodmaker Inc in 1967. They changed their name back to Jack-In-The-Box in 1999.