Beautiful engraved specimen certificate from the Loew's Metropolitan Montreal Limited printed in 1920. This historic document was printed by Canadian Bank Note Company and has an ornate border around it with a vignette of an allegorical woman sitting next to a lion. This item has the printed signature of the Company's President, Thomas Penin Birchall.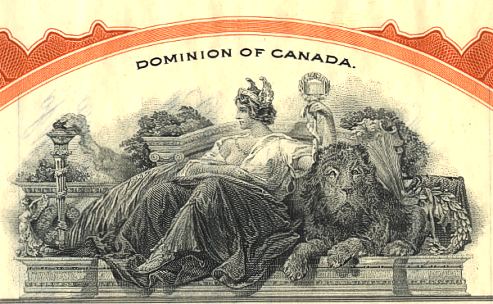 Certificate Vignette
Opened on November 19, 1917, Loew's Theatre was Montreal's grandest movie palace. The theater originally featured vaudeville before becoming a venue solely for motion pictures in 1940. Loew's closed in 1975 after the last showing of "Jaws". In December 1976, the theater reopened with five screens with cinema one in the former orchestra area, cinema three in the balcony, cinema two over the orchestra, and cinema four and five in the backstage area. The opening movie was "King Kong" in all five cinemas, French in Cinema 1 and Italian in Screen 3. The Loew's was closed in October 1999, then part of the Famous Players chain.
---
Who's who in Finance, Banking, and Insurance A BIOGRAPHICAL DICTIONARY OF CONTEMPORARIES 1920-1922 BIRCHALL, Thomas Penin, 17 St. John St.. Montreal; res. 70 McTavlsh St., Montreal, Que., Can. Banker, broker; b. Toronto, Out., Oct. 29. 1879; *. Thomas Shivers and Mary Helena Birchall: ed. high school. Toronto; m. June 9. 1906. Ruth Neville Abbott: children, one son and two daughters. Office boy, clerk, and salesman, Toronto Silver Plate Co., 1895-1912: engaged as banker and broker Montreal, Que., since 1912. Pres. Canada Industrial Bond Corporation, Ltd.: Dlr. Loew's Montreal Theatres, Ltd., Marcus Loew's Theatres, Ltd., Bras D'or Coal Co., Ltd. Private K Company. Queen's Own Rifles, three years; Captain. Bth Royal Highlanders of Canada. Mason. Clubs: Royal Montreal Golf. St. James Montreal Hunt, National, Royal Canadian Yacht, Argonaut Rowing (life member). Bankers of New York, Ridean (Ottawa). Royal Automobile British Empire (London). Angelica n.
---
About Specimens
Specimen Certificates are actual certificates that have never been issued. They were usually kept by the printers in their permanent archives as their only example of a particular certificate. Sometimes you will see a hand stamp on the certificate that says "Do not remove from file". Specimens were also used to show prospective clients different types of certificate designs that were available. Specimen certificates are usually much scarcer than issued certificates. In fact, many times they are the only way to get a certificate for a particular company because the issued certificates were redeemed and destroyed. In a few instances, Specimen certificates we made for a company but were never used because a different design was chosen by the company. These certificates are normally stamped "Specimen" or they have small holes spelling the word specimen. Most of the time they don't have a serial number, or they have a serial number of 00000. This is an exciting sector of the hobby that grown in popularity over the past several years.