Beautiful membership certificate No. 213 from the Los Angeles Stock Exchange. The Los Angeles Stock Exchange was founded in 1899. This item has a wonderful sketch of the Exchange Building with automobiles from the late 1920's below. This historic document was the membership certificate for Morgan & Co. and was handsigned by the the Stock Exchange President and Chairman. This is the only Los Angeles Stock Exchange Membership Certificate we have seen and beleive it to be quite rare. 18" x 13"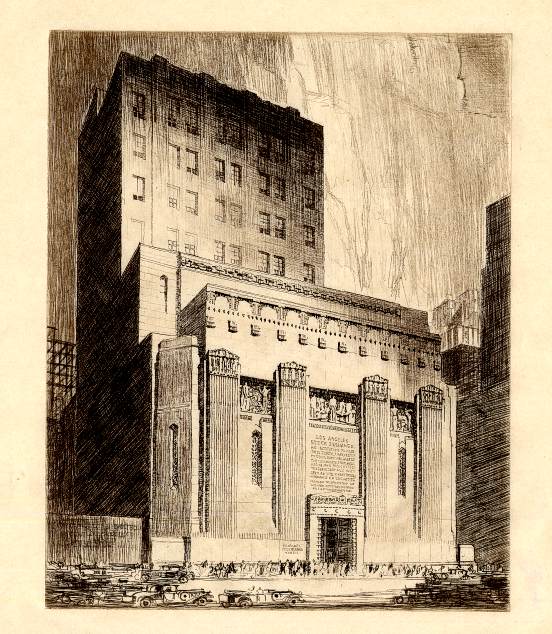 Certificate Vignette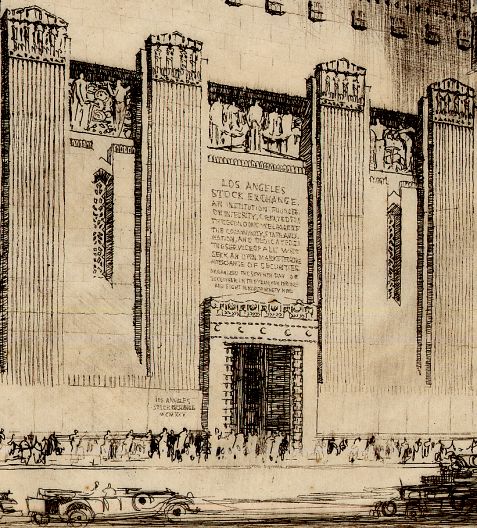 Certificate Vignette
Los Angeles Stock Exchange was formed in 1899. In 1956, the Los Angeles Stock Exchange and the San Francisco Stock Exchange merged to become divisions of the Pacific Coast Stock Exchange. The organization incorporated in 1973 as the Pacific Stock Exchange. The Pacific Stock Exchange was bought out by Archipelago Holdings on September 27, 2005 which was in turn acquired by the New York Stock Exchange in 2006. Los Angeles Stock Exchange Building (618 S. Spring St.) Built in 1929, the five-story exchange building was designed by Samuel Lunden in the Moderne style. Ground was broken in October 1929, just as the Great Depression hit, and when the Los Angeles Stock Exchange opened its doors there in 1931, the country was deep into the Depression.