Beautifully engraved 9 1/2 % Convertible Bond certificate from M/A-Com, Inc. printed in 1981. This historic document was printed by the American Banknote Company and has an ornate border around it with a vignette of three men behind a world globe. This item has the signatures of the Company's President and Treasurer.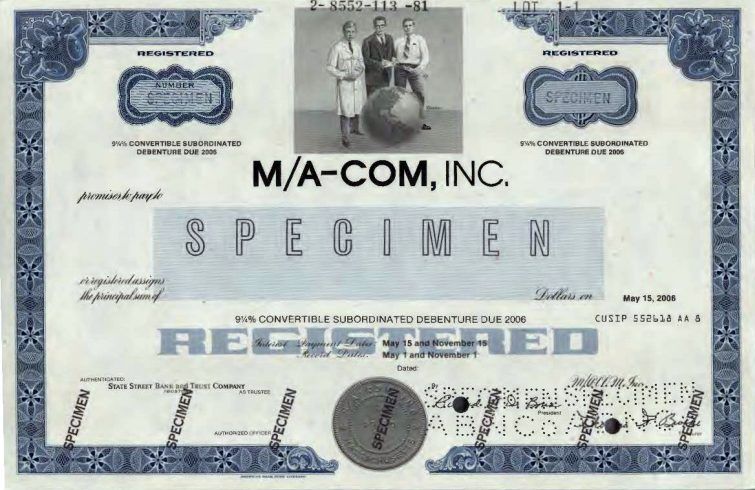 Certificate
MACOM Technology Solutions is a developer and producer of radio, microwave, and millimeter wave semiconductor devices and components. The company is headquartered in Lowell, Massachusetts, and in 2005 was Lowell's largest private employer. MACOM is certified to the ISO9001 international quality standard and ISO14001 environmental standard. The company has design centers and sales offices in North America, Europe, Asia and Australia. MACOM was founded in the 1950s as Microwave Associates by the engineers Vessarios Chigas, Louis Roberts, Hugh Wainwright and Richard M. Walker. The company was initially a small supplier of magnetrons to the U.S. Army Signal Corps. The name was changed to M/A-COM in 1978 to reflect the company's growing involvement in the telecommunication industry and the merger with DCC, Digital Communications Corporation. In May 1981, MACOM acquired Ohio Scientific. In the 1990s, MACOM was acquired by AMP Inc., which was in turn acquired by Tyco Electronics. History from Wikipedia and
OldCompany.com
(old stock certificate research service)
About Specimen Certificates
Specimen Certificates are actual certificates that have never been issued. They were usually kept by the printers in their permanent archives as their only example of a particular certificate. Sometimes you will see a hand stamp on the certificate that says "Do not remove from file". Specimens were also used to show prospective clients different types of certificate designs that were available. Specimen certificates are usually much scarcer than issued certificates. In fact, many times they are the only way to get a certificate for a particular company because the issued certificates were redeemed and destroyed. In a few instances, Specimen certificates were made for a company but were never used because a different design was chosen by the company. These certificates are normally stamped "Specimen" or they have small holes spelling the word specimen. Most of the time they don't have a serial number, or they have a serial number of 00000.