Beautiful certificate from the Merchants National Bank of Plattsburgh issued in 1926. This historic document was printed by the Win. Mann Company and has an ornate border around it with a vignette of the Samuel de Champlain Monument. This item has been hand signed by the Company's President, and Secretary, and is over 85 years old.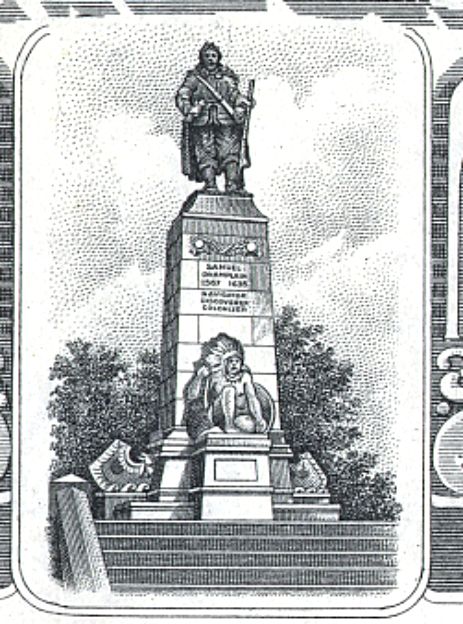 Certificate Vignette
Plattsburgh was founded by Zephaniah Platt in 1785. As early as Samuel de Champlain's 1609 expedition into the Lake Champlain valley, this region began to fall under the influence of the French and later under American and English colonial power. Early French contact and the proximity of Plattsburgh to Quebec, make this a historically French region. While Plattsburgh is cited by American historians as being a relatively new city, the area became occupied somewhere after the arrival of Samuel de Champlain in 1609 and the beginning of the Fur Trade in Montreal in the mid to late 17th century. The community set itself off from the Town of Plattsburgh by incorporating as a village in 1815. The city government was established in the former village in 1902. With its significant location on a major water thoroughfare and close to the U.S. - Candian border, Plattsburgh has been the site of a number of historic events including the Revolutionary War's Battle of Valcour Island and the War of 812's Battle of Plattsburgh; the city has a War of 1812 museum. History from the City of Plattsburgh and
OldCompany.com
(old stock certificate research service).