Original NBA Vancouver Grizzlies Alternate Logo Sticker from 1995 with the phone number of ticket sales on the back. This sticker measures 4" x 3 1/4" and is over 22 years old.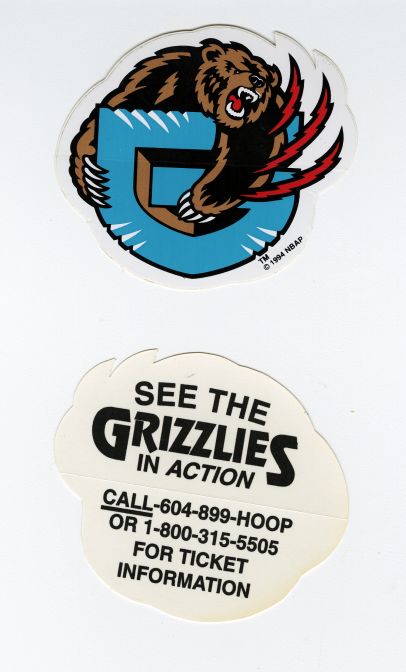 Grizzlies Logo Sticker Front and Back
The Vancouver Grizzlies were a Canadian professional basketball team based in Vancouver, British Columbia. They were part of the Midwest Division of the Western Conference of the National Basketball Association (NBA). The team was established in 1995, along with the Toronto Raptors, as part of the NBA's expansion into Canada. Following the 200001 season, the team relocated to Memphis, Tennessee, United States, and are known as the Memphis Grizzlies. The Grizzlies played their home games at General Motors Place for the entirety of their 6 seasons in Vancouver. The Grizzlies were the first NBA team to have a website, which was created in 1995 by Bob Kerstein, Chief Information Officer of the Grizzlies at the time. Josh Davis was credited with designing the Vancouver Grizzlies logo in 1995.