Beautifully engraved Movie Prop Paper Money from the Ellis Mercantile Company . This historic document was printed by the Ellis Mercantile Company and has a border around it with a vignette of the company's founder, Mr. Ellis Zemansky. This item is over 50 years old. This 50 Dollar
Phoney Mazuma
Note says Can't Pass Me
Ellis Mercantile Company
Hollywood 28, California. This is a very unique item that combines old paper money with Hollywood Movies. We will include a copy of the Certificate of Authenticity from Ellis Props and Graphics with every certificate.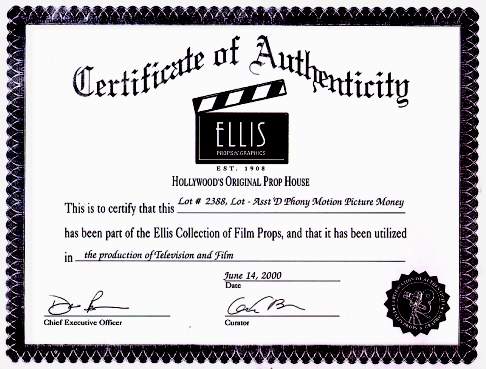 Certificate of Authenticity
from Ellis Props
This note is prop money that was made for movies and used by major studios for Motion Picture and TV Productions. These notes were acquired from Ellis Props & Graphics who was the oldest (since 1908) and largest prop supply house in Hollywood until closing their doors last year. If you have ever been involved in Movie or TV Production in Los Angeles, it is almost certain you've had dealings with Ellis Props and Graphics Partners, or Ellis Mercantile as most old-timers call it. Ellis Mercantile was established as a pawn shop in 1908. When a customer needing a glass eye for one of the earliest movie productions suggested that he rent the glass eye instead of purchasing it, the rental business was started. Over the years, Ellis props have been used on countless famous movies and well-known TV productions. Ben-Hur, Cleopatra, Spartacus, The Titanic, Get Smart and Wild Wild West to name but a few. Ellis, owned by the Tapestry Group, last year closed shop, due to failing profits combined with runaway production concerns. Over five days in early June 2000, nearly a century worth of movie props were auctioned off at the Universal Hilton and via the Internet. Everything from Ellis' 40,000 square feet of props went on the block. Attendees could bid on antiques and collectibles such as an operating Gatling gun from circa 1872, used in Clint Eastwood's The Outlaw Josey Wales, life preservers from The Titanic, the baby carriage from De Palma's The Untouchables, light sabers from Star Wars, the umbrella phone from Get Smart, as well as movie used
real prop money
which we acquired. mazuma NOUN: 1. Slang: Something, such as coins or printed bills, used as a medium of exchange: cash, currency, lucre, money. Informal: wampum. Slang: bread, cabbage, dough, gelt, green, jack, lettuce, long green, moola, scratch. Origin: Yiddish mazume, mezumen, cash, from Medieval Hebrew mzummn, fixed currency, from Mishnaic Hebrew, fixed passive participle of zimmn, to arrange, invite, from Hebrew zmn, appointed time, from Aramaic zmn, zman, from Akkadian simnu, season, time, from wasmu, asmu, to be fitting.