Beautiful certificate from the Piersen Telegraph Transmitter Company issued in 1917. This historic document has an ornate border around it with a vignette of an eagle. This item has the signatures of the Company's President, Edwin H. Piersen and Secretary. Scarce certificate with minor splits on lower folds.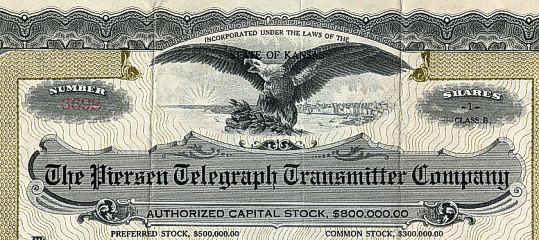 Certificate Vignette
In 1915, Edwin H. Piersen, of Topeka, Kansas, had been awarded a grand prize by the Panama-Pacific Exposition for his telegraph transmitter. It had a typewriter keyboard and was 100 percent faster than the method previously used.