Beautiful $1,000 Bond Certificate from the Pillsbury Company dated in 1961. This historic document was printed by Security-Columbian Banknote Company and has an ornate border around it with a vignette of an allegorical woman sitting in front of a factory. This item has the signatures of the Company's President and Secretary and is over 47 years old. Punch cancelled.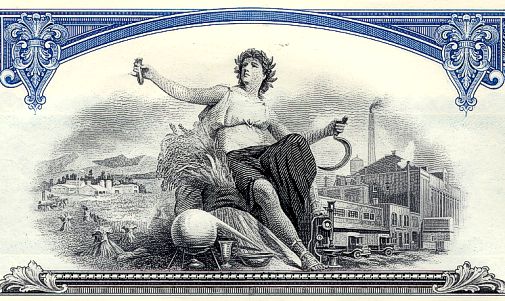 Certificate Vignette
Pillsbury is a brand name used by Minneapolis-based General Mills and the The J. M. Smucker Company. Historically, however, Pillsbury was a rival company to General Mills, also based in Minneapolis, that was one of the world's largest producers of grain and other foodstuffs until it was bought-out by General Mills in 2001. De jure interpretation of antitrust law required General Mills to sell off some of the products. General Mills kept the rights to refrigerated and frozen Pillsbury products, while dry baking products and frosting are now are sold by Smucker under license. Leo Burnett who created Pillsbury's Doughboy and Jolly Green Giant considers them two of the agency's top five brand icons. C.A. Pillsbury and Company was founded in 1872 by Charles Alfred Pillsbury and his uncle John Sargent Pillsbury. The company was the first in the United States to use steam rollers for processing grain. The finished product required transportation, so the Pillsburys assisted in funding railroad development in Minnesota. In 1889, Pillsbury and its five mills on the banks of the Mississippi River were purchased by a British company. The company also tried to purchase and merge with the Washburn Crosby Company (a precursor of General Mills), but the strong rivalry prevented any merger from happening at the time. In 1923 the Pillsbury family reacquired the Pillsbury-Washburn Flour Mills Company, Ltd. which subsequently was incorporated in 1935 as Pillsbury Flour Mills Company.[2] The early 1950s brought the acquisition of Ballard & Ballard Company and the beginning of prepackaged biscuit dough. Later acquisitions included restaurants such as Burger King, Steak & Ale, Bennigans, Godfathers Pizza, Haagen Daz and Quik Wok, plus popular grocery store food brands like Green Giant. In 1989, the British company Grand Metropolitan purchased the food maker, and during this ownership period the company divested itself of all production and distribution facilities (contracting these functions to other companies), making itself simply a marketing entity for its own brands (Pillsbury, Green Giant, Old el Paso, Totino's, etc). A decade later, the old rivals merged. However, the baking products division was sold to International Multifoods Corporation, which was later acquired by Smucker's. Pillsbury sold all of their restaurant brands and exited that business completely by the late 90's. History from Wikipedia and OldCompanyResearch.com (old stock certificate research service).