Private Pilots license for Eleanore M. Kratz issued on Novemeber 24, 1930. The license was signed by Ms. Krantz and Clarence M. Young, Assistant Secretary of Commerce for Aeronautics. The license was also signed by Asbury W. Meadows, Department of Commerce Inspector. Asbury W. Meadows, later became the Director of Aviation for the State of Texas.
Pilots License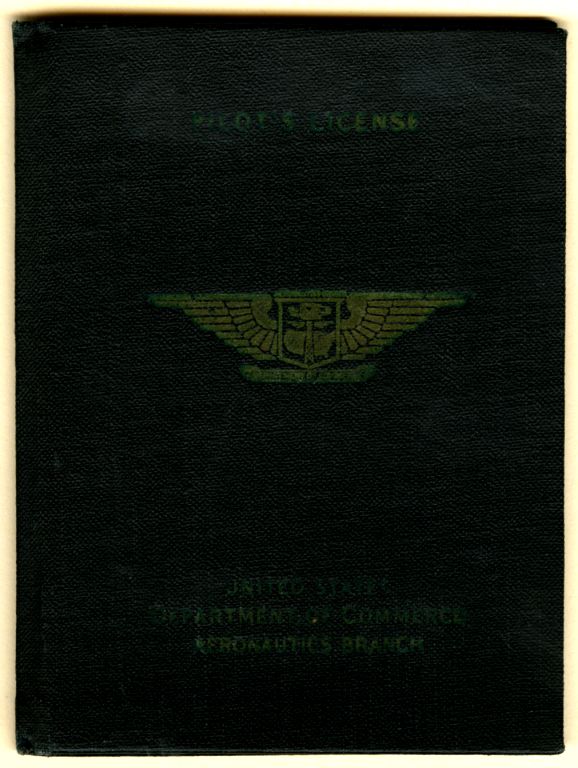 Pilots License Cover
Eleanore May Kratz was from Buffalo, New York. Clarence M. Young (July 24, 1889 - April 10, 1973) was a World War I pilot, Vice President of Pan American Airways and Secretary of Commerce under President Herbert Hoover. He began his flying career in World War I as a colonel in the U.S. Air Force. After being shot down over Austria, he was captured and became a prisoner of war for five months. Following the war, he became the Director of Aeronautics at the U.S. Dept. of Commerce from 1926 to 1929. From 1929 to 1933, he served as the Department's Secretary of Commerce. In 1934 Young began his 25 year career with Pan American Airways, rising from manager of the Transpacific Division (1934-1945) to Vice President (1950-1959). Young received the Elder Statesman of Aviation Award by the Board of Directors of the National Aeronautic Association in 1956. Jul 1, 1927: The Secretary of Commerce appointed Clarence M. Young as Director of Aeronautics to administer the Aeronautics Branch under the general supervision of the Assistant Secretary for Aeronautics. A lawyer from Des Moines, Iowa, Young had served as a pilot on the Italian front in World War I and was later active in civil aeronautics. Oct 1, 1929: William P. MacCracken, Jr., resigned as Assistant Secretary of Commerce for Aeronautics and was succeeded by Clarence M. Young, who had been serving as Director of Aeronautics. Nov 1929: As a result of increased activities, Assistant Secretary of Commerce for Aeronautics Clarence Young reorganized the Aeronautics Branch. He abolished the position of Director of Aeronautics and divided the principal functions of the Branch among three executives who reported directly to the Assistant Secretary and, under his chairmanship, constituted the executive board of the Branch. These three officials were: the Director of Air Regulation, whose responsibilities included the Inspection Service and the Licensing Division, as well as the Engine Testing Section; the Chief Engineer of the Airways Division; and the Director Aeronautic Development, whose responsibilities included the Aeronautic Information Division and the Aeronautics Research Division. The Director of Aeronautic Development also gave direction to special research committees, the Airways Mapping Section, and the Airport Section, which on Dec 2, 1929, took over the duties of the Field Service Section established ten months earlier. May 23, 1933: Clarence M. Young resigned as Assistant Secretary of Commerce for Aeronautics, effective Jun 15.