Beautifully engraved Certificates representing an Airline, Car Company, Railway and a Dot Com ranging from the 1890's to the 1990's. This is an incredible set of certificates representing an historic period of time and change in technology.
---
1. Beautifully engraved 1950s Stock certificate in excellent condition from the Pan American World Airways . The vignette shows 2 partially clothed men holding the two globes topped by an eagle. This certificate has the printed signature of the company's founder,
Juan Trippe
who was the President. These certificates were printed by the American Banknote Company and are over 40 years old.

Certificate Vignette
The name Pan Am is truly synonomous with aviation. For over 60 years it pioneered transocean and intercontinental flying. It was the launch platform for aircraft types that set the standard by which all that came later were to be measured. For a period, as the quasi-official "Chosen Instrument", it represented America's commercial aviation policy overseas (and some would even claim it's foreign policy). Without Pan American the world's air transport would surely be different, and even the destinies of some nations would be changed. Pan American World Airways began life in 1927 with a vision, some single engine aircraft and a single route from Key West to Havana. From this beginning came the airline that would literally open the world to aviation. Pan Am launched more new aircraft development than any other airline in history. It pioneered routes across the world's oceans and continents, eventually operating daily flights circling the globe.
---
2. Beautiful engraved bond certificate in nice condition from the Cleveland, Cincinatti, Chicago and St Louis Railway Company dated 1893. This stunning document has a brown ornate border around it with a touching vignette of two sisters aka "The Reaper Sisters" flanked by trains as the central vignette. This certificate is over 108 years.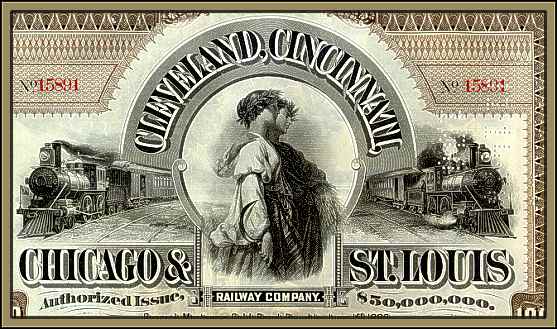 Certificate Vignette
Vignettes on verso
---
3. Beautifully engraved Stock certificate from General Motors Corporation dated in the 1970's. This cancelled document has an nice blue border around it with a vignette of three images of men next to a factory and GMs view in the future of its High Tech image.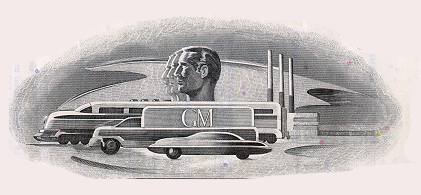 Certificate Vignette
---
4. Beautifully engraved SPECIMEN Certificate from Broadband.com with cancellation date September 22, 1998 (The date of the Airplane's Inaugural Flight) . This historic document was printed by the United States Banknote Company and has an ornate border around it with a vignette and underprint of the HALO Proteus Airplane designed by Burt Rutan. The HALO Proteus Aircraft was included in the list of the "100 Best of the Century", by Time Magazine in April 1999 This item has the printed signatures of the company's officers.
Certificate Vignette
Burt Rutan was also the designer of the Voyager, the plane that flew around the world without refueling. Burt Rutan is also the designer of over 25 other aircraft. On October 25 and 27, 2000, the HALO Proteus Aircraft set 3 world altitude records. The three records were peak altitude (62,786 feet), sustained altitude in horizontal flight (61,919 feet), and peak altitude (of 55,878 feet) with a 1000-kg payload. These altitudes significantly exceeded the existing records in Class C-1.E, Group III According the the company's website at angeltechnologies.com, Angel Technologies Corporation (Broadband.com) has its headquarters in St. Louis, Mo., and is a privately-held wireless communications company using proprietary High Altitude Long Operation (HALO) aircraft to deliver services worldwide. Augmenting terrestrial towers and orbiting satellites, Angel's HALO aircraft will fly fixed patterns in the stratosphere over major cities to deliver metropolitan wireless services at lower cost, with increased flexibility and improved quality of service. Teamed with corporate partners (including Raytheon), Angel will deliver a variety of fixed and mobile wireless services including voice, data and video. The HALO Network will enable individual consumers and businesses to send and receive data at multi-megabit per second rates. It will be replicated over metropolitan centers throughout the world.